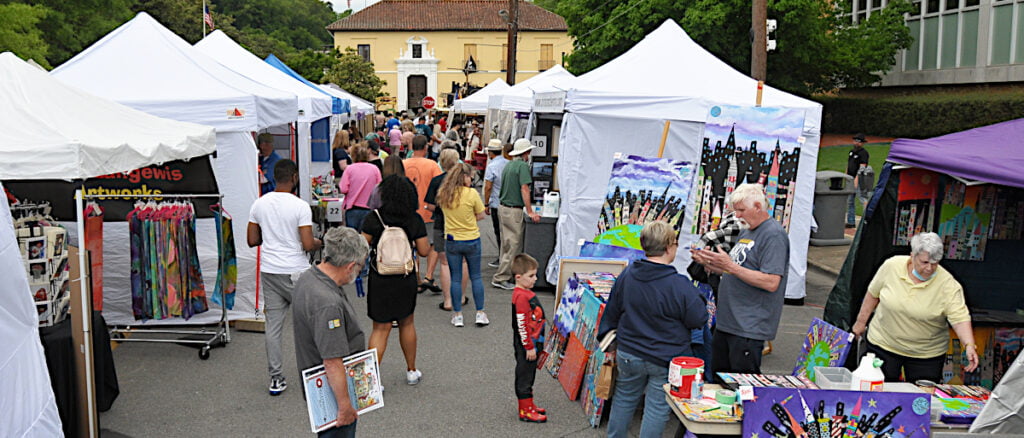 The Arts & The Park 2022 Festival was held from April 28 – May 8. HSACA is continually updating the calendar of events to reflect evolving Covid-19 guidelines. The 2022 festival utilized virtual, in-person, indoor, and outdoor events. We ask that all participants at live events practice social distancing and wear a mask. Please visit the links below to view the offerings for 2022 Arts & The Park festival.
Please check back often, events are being added daily

Watercolor: Your Next Level

Hosted by: Suz Kriesant and June Lamoureux
Event Type: Workshop
When:
05/07/2022 Starting at: 10:00 AM til: 3:00 PM, Doors Open:
Location:
Whittington gallery
307 Whittington Ave
Hot springs, Ar 71901
Description:

Watercolor: Your Next Level
Two award winning artists – June Lamoureux and Suz L Kriesant – mother/daughter team – have come together again to teach a watercolor class designed to meet each artist where they are and help expand their understanding of this media.
We will provide plenty of hands-on experimentation with different papers and painting surfaces. We will also explore ways to change/adapt/jazz up existing art using the vast array of pigments and metals available to the modern artist using watercolor. In addition, students can bring their own watercolor "works in progress" to get specific feedback and the chance to play with new ideas.
• Bring yourself and some lunch. All the materials are included (various papers, watercolor, paintbrushes…)
• We will provide everything needed for the class but if you have your watercolor materials handy like brushes and paints – bring them.
• Bring some of your watercolor art you'd like to play with (optional but keep in mind – June and Suz are both great resources of ideas and inspiration. And they give really great feedback….)
$50 (all materials included)
May 7, 2022
10 am to 3 pm
Whittington Art Gallery, Hot Springs, AR
Call 501-607-0214 to reserve your spot.
Audience: Artists
Audience Ages: Adults
Student Grades:
Youth Ages:
Ticketed Event? Yes
Ticket Price or Fee:
$50 (all art materials provided)
Bring your own lunch and drink
Call the Whittington Gallery (501) 607-0214 to pre-register
Get tickets at:
Sign up at the Whittington Gallery.
Tickets are availible on the web at:
https://www.whittingtongallerystudios.com/product-page/watercolor-class-next-level-with-june-lamoureux-and-suzanne-kriesant
Tickets go on sale:
Now
Contact: Suz Kriesant Phone: 501-507-8988 Email: fuzzbombcraft@gmail.com