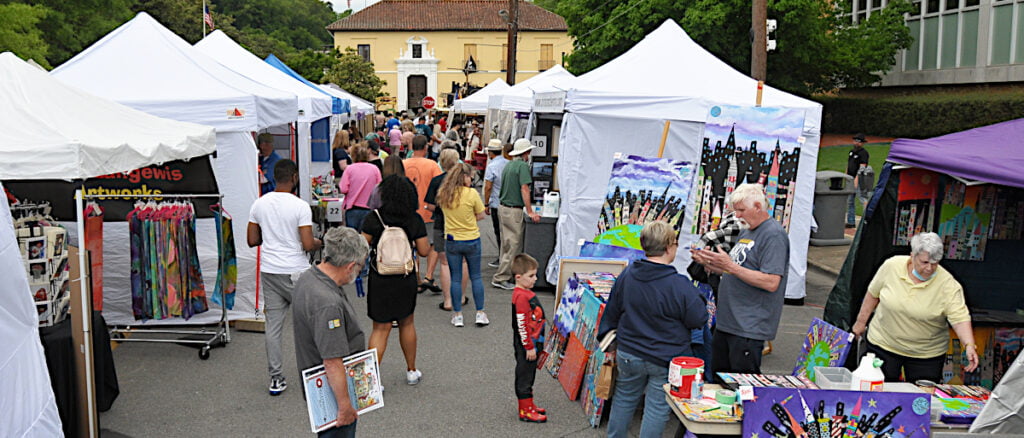 The Arts & The Park 2022 Festival was held from April 28 – May 8. HSACA is continually updating the calendar of events to reflect evolving Covid-19 guidelines. The 2022 festival utilized virtual, in-person, indoor, and outdoor events. We ask that all participants at live events practice social distancing and wear a mask. Please visit the links below to view the offerings for 2022 Arts & The Park festival.
Please check back often, events are being added daily

Art Springs

Hosted by: HSACA
Event Type: Event
When:
04/30/2022, 05/01/2022 Starting at: 10:00 AM, 11:00 AM til: 8:00 PM, 4:00 PM, Doors Open:
Location:
Hill Wheatley Plaza
605 Central Ave
Hot Springs, AR 71901
Description:

The free, 2-day, outdoor, juried, festival is bursting with talented, fine artists, artisans, kids' events, and the Art Springs Stage featuring a multitude of live performances. Art Springs is held at Hill Wheatley Plaza in downtown historic Hot Springs and is open from 10 AM to 6 PM on Saturday, April 30th, and Sunday, May 1st, 10 AM – 4 PM.
Art Springs will celebrate our "Creative Roots" on the Art Springs Stage with performances from Philander Smith College students, Keith Symanowitz and the McCool Family Band, the Arkansas Highlands String Band, Ruff and Ready String Band, Dancers from the Quapaw Tribe, Jacob Flores, and headliner, Sad Daddy. 
The event also includes a sidewalk chalk competition, live art by the Chalk Twins, the Hot Springs Renaissance Faire, a free children's book-giveaway, and a live performance by I CAN! Dance Garland County, paint wall, and plenty of arts and crafts. Bring your appetite, as there will be plenty of food and drinks to purchase from some of Hot Springs' best food trucks. 
Arts Springs is a partnership with Cutwell 4 Kids, Emergent Arts, Garland County Library, Hot Springs Renaissance Faire, HSACA, and the Arkansas Highlands Folk Project. Art Springs is sponsored by Arvest Bank, and A.S.M.S.A. and is made possible in part through grants from the Arkansas Arts Council and Arkansas Community Foundation. 
The 2022 Art Springs Artists:
ART SPRINGS 2022
ARTIST/FINE CRAFTS LISTING
Alison Parson
Acrylic and watercolor painting
alison@alisonparsons.com
Barb Biggerstaff Demonstrating
Mixed media, gemstones, leather and fabric
gemsbybarb@aol.com
Carla Carlton Demonstrating
Jewelry with precious and semi-precious gemstones
Carol Klingbeil
Jewelry
Caroline Bowler
Jewelry, canvas
consciouscenteredliving@gmail.com
Carolynn Shultz
Melted wax art
Chris McHenry Demonstrating
Watercolor painting
Craig's Uncontrolled Creations
Wood Fractal Burns
csdunn77@gmail.com
David McCracken
Acrylic painting
Don Watson Demonstrating
Painter, oil on canvas and watercolor
Donna Dunnahoe Demonstrating
Fiber artist
Donna Lawrence
Jewelry
donna.65809@hotmail.com
Gigi Buhrow Demonstrating
Jewelry
Hugh Dunnahoe Demonstrating
Oil on linen
dunnahoe.com
Jennifer Hogue
Simply Charming Soap Co.
Dreama0223@gmail.com
John Faginkrantz Demonstrating
Acrylic collage
jfaginkrantz@aol.com
Justin Warrick Demonstrating
Prismacolor markers, pencils and acrylic
Linda Bush Demonstrating
Mixed media
Linda Fletcher
Glass
Lisa Garcia
Candles
lisa@ouachitawaxandnatural.com
Lori Arnold Demonstrating
Acrylic painting and sculpture
Marjorie Lambert
Jewelry
Matthew Reynolds Demonstrating
Musical instrument artist
Mijhal Daisy Poler Demonstrating
Jewelry
Mother Earth's Treasures AR
Mixed media
garyharvey12@hotmail.com
Nancy Nichols
Jewelry with semi-precious gemstones, lampwork beads
and Swarovski crystals
Pamela Burns
Jewelry
Pat Langewis Demonstrating
Silk painting
Patricia Collins
Mixed media painting, pottery, mosaic, fused glass and leather purses
Pinturas Helguera Demonstrating
Oil on canvas
Helgueraisaac71@yahoo.com
Rob and Cathy Feather
Copper Jewelry
featherjewelrycreations@gmail.com
Stoneman and Diane Demonstrating
Alabaster sculpture, jewelry, yard art, dreamcatchers
stonemanart2002@yahoo.com
The Sustainable Dragonfly
Wood worker
peppersmithconsulting.com
Kate Beebe
Photographer
warrick420@gmail.com 
Taylor Beebe Fedosky
Stained Glass
Virgeen Healey/Ray Schott
Clay
The Art Springs Stage and Adair Park Schedules:
ART SPRINGS 2022 – STAGE SCHEDULE
Saturday, April 30th
10:00am-11:00           ASMSA Jazz Band Students
11:00-12:00 pm          Big Papa Binns
12:00pm-1:00 pm       Zinse Agginie – Music and Storytelling
1:00-1:30 pm              Chalk Walk Awards and ICan! Dance Garland County                      
1:30-2:00 pm              Fun City Chorus
2:00-3:30 pm              Keith Symanowitz and Meemaw and the Squirrel Chasers (jig dance lessons)                    
3:30-5:00 pm              Song Writing Competition (see Ashley W for finalist list for sound guys)
5:00-5:45 pm              Tony Stampley Performance (Celebrity judge for songwriting)
5:45-6:00 pm              Songwriting Awards
6:00-7:00 pm              AR Highlands String Band
7:00-9:00 pm              Sad Daddy
9:00-10:00+                Maybe Sad Daddy cont.
Sunday, May 1st
11:00 am                     Ricko Donovan – Traditional Music
12:00 pm                     Ruff and Ready String Band               
1:00 pm                       Quapaw Tribe Dancers
2:30-3:30+ pm            Jacob Flores
Adair Park open jam sessions
Charlie Mink organizer, will provide PA system
Saturday 12-3
12 - 1 PM                   Ken Tillery – Old-time guitar
1 – 2 PM                    Laura Lee Willard – American Folk Music
2 – 3 PM                    Charlie and Stu – Celtic Duo
Sunday 11-3
11 – 12 PM                2's Company
12 – 1 PM                  Lakeside High Jazz Combo
1 – 2 PM                    Treble In The Village - Female Barbershop Quartet
2 – 3 PM                    Ms. Martin's Music Menagerie
3 – 4 pm                    Greenbriar Trio
Audience: General Public
Audience Ages: All Ages
Student Grades:
Youth Ages:
Ticketed Event? No
Ticket Price or Fee:
Get tickets at:
Tickets are availible on the web at:
Tickets go on sale:
Contact: Liz Phone: 773-208-9545 Email: liz@hotspringsarts.org