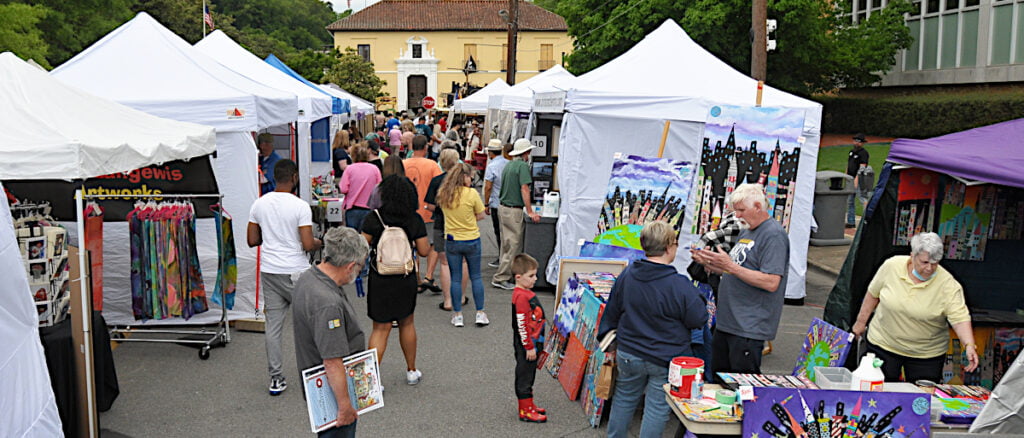 The Arts & The Park 2022 Festival was held from April 28 – May 8. HSACA is continually updating the calendar of events to reflect evolving Covid-19 guidelines. The 2022 festival utilized virtual, in-person, indoor, and outdoor events. We ask that all participants at live events practice social distancing and wear a mask. Please visit the links below to view the offerings for 2022 Arts & The Park festival.
Please check back often, events are being added daily

Professional-Led Open Jam Sessions

Hosted by: HSACA
Event Type: Event
When:
04/30/2022, 05/01/2022 Starting at: 12:00 PM, 11:00 AM til: 3:00 PM, 3:00 PM, Doors Open:
Location:
Adair Park
354 Central Ave
Hot Springs, AR 71901
Description:

Organized by Charlie Moore of the Arkansas Highlands Stringband and Ken Tillery (see below), participants are invited to bring their own instrument and join the open jam sessions led by local musicians. 
Ken Tillery is a fingerstyle guitarist rooted in traditional American styles. He takes his inspiration from some of the great country, ragtime, and blues players, such as Sam McGee, Mississippi John Hurt, and Blind Blake. Over the course of his musical journey, Ken has befriended and studied with Andy Cohen and Roy Book Binder, who both continue to dedicate their lives to the preservation of early American roots music.
Audience: General Public, Musicians
Audience Ages: All Ages
Student Grades:
Youth Ages:
Ticketed Event? No
Ticket Price or Fee:
Get tickets at:
Tickets are availible on the web at:
Tickets go on sale:
Contact: Liz Phone: 773-208-9545 Email: liz@hotspringsarts.org