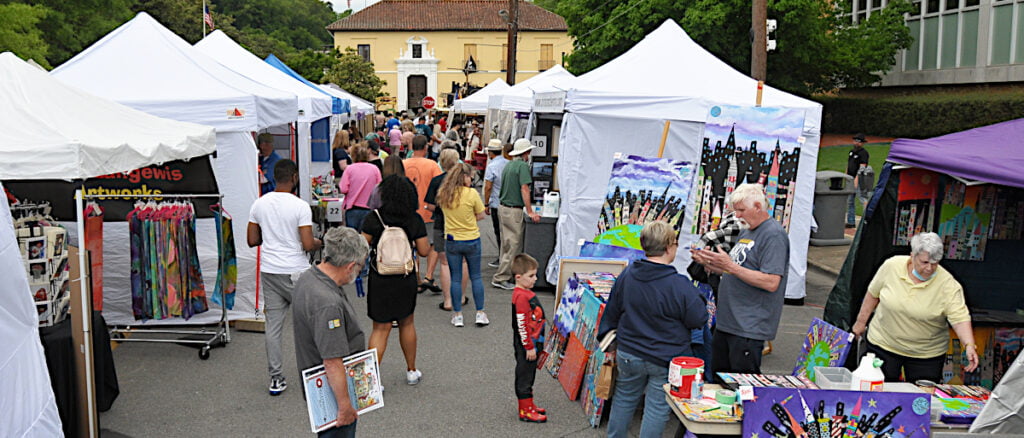 The Arts & The Park 2022 Festival was held from April 28 – May 8. HSACA is continually updating the calendar of events to reflect evolving Covid-19 guidelines. The 2022 festival utilized virtual, in-person, indoor, and outdoor events. We ask that all participants at live events practice social distancing and wear a mask. Please visit the links below to view the offerings for 2022 Arts & The Park festival.
Please check back often, events are being added daily

Quapaw Tribe Dancers

Hosted by: HSACA
Event Type: Performance
When:
05/01/2022 Starting at: 1:00 PM til: 2:00 PM, Doors Open:
Location:
Hill Wheatley Plaza
605 Central Ave
Hot Springs, AR 71901
Description:

Traditional tribal dancers from the Quapaw Nation will return to their homeland to perform at Art Springs. Quapaw Tribal Dancers will perform at 1 PM on Sunday, May 1 at Art Springs.  A series of various traditional dances will be performed with explanations from the dancers about each dance. 
Tribal member Mike Shawnee said, "Every time we come to Arkansas, I feel our ancestors all around us. I think they would be happy that the Quapaws are making an effort to be a presence in our original home." 
Before their forced removal around 1834 from Arkansas to Indian Territory, now Oklahoma, the Quapaws made their homes in areas as far east as the Mississippi River and west to Oklahoma and Texas. Recently, the tribal nation purchased 160 acres near Little Rock in an effort to regain a small portion of their lost homeland.
The performance is sponsored by VIPA Hospitality Group.
Audience: General Public
Audience Ages: All Ages
Student Grades:
Youth Ages:
Ticketed Event? No
Ticket Price or Fee:
Get tickets at:
Tickets are availible on the web at:
Tickets go on sale:
Contact: Liz Phone: 773-208-9545 Email: liz@hotspringsarts.org