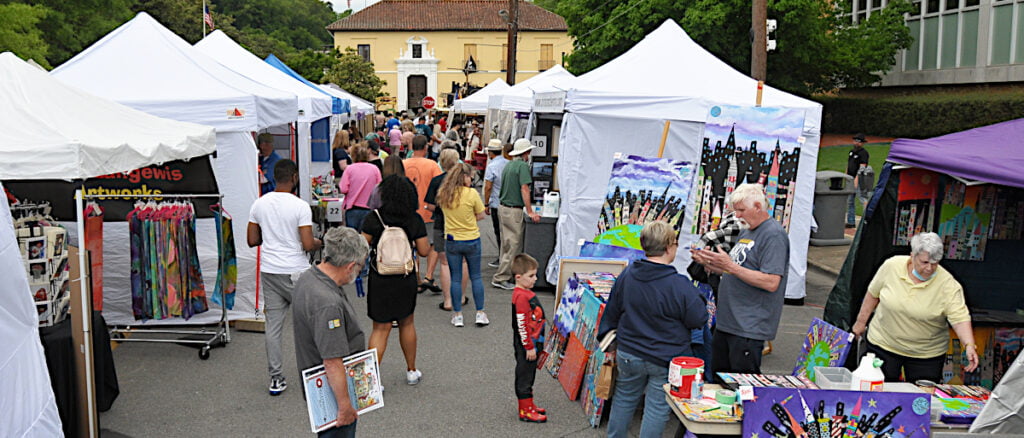 The Arts & The Park 2022 Festival was held from April 28 – May 8. HSACA is continually updating the calendar of events to reflect evolving Covid-19 guidelines. The 2022 festival utilized virtual, in-person, indoor, and outdoor events. We ask that all participants at live events practice social distancing and wear a mask. Please visit the links below to view the offerings for 2022 Arts & The Park festival.
Please check back often, events are being added daily

Chalk Walk

Hosted by: HSACA
Event Type: Competition
When:
04/30/2022 Starting at: 8:30 AM til: 12:00 PM, Doors Open:
Location:
Hill Wheatley Plaza
605 Central Ave
Hot Springs, AR 71901
Description:

Saturday, April 30th from 8:30 AM to 12 PM, the Cultural Alliance will host the annual Sidewalk Chalk Event during Arts & The Park- Art Springs. This is a free, judged sidewalk chalk event for students in grades kindergarten through twelfth grades. Judging will take place between 12- 12:45 PM, with winners announced at the Art Springs stage at 1:00 PM. The event will take place on the sidewalks adjacent to Hill Wheatley Plaza in Hot Springs, AR.
Students will be divided into the following divisions:
K-3, 4-6, 7-8, 9-12
Prizes will be given to the winner selected from each division, along with one prize for the overall People's Choice Award.
There will be a creative expression area for children Pre-K and under with adult supervision.
Rules
Teams should consist of 2-5 students.
Team sponsors must obtain parental permission for each student and show permissions on day of event. (Permission Slip Attached)
Artist teams may use a drawing or photo from which to base their art.
Designs must fit within the 4'x4' designated sidewalk square provided.
Chalk will be provided by the organizers; however, students may bring additional chalk.
Only non-oil based washable chalk may be used in your design.  No acrylic paints, liquid pastels, oil-based pastels, etc. will be allowed.
Designs must be "family friendly." No nudity or sexually suggestive art.  No gang-related art.  No art depicting violence, racism, or other characterization deemed inappropriate.  
All materials brought by the artist teams shall be removed from the event premises at the end of art making.
Day of the Event
There will be no parking at Hill Wheatley Plaza. There will be street parking for cars; however, buses will need to park near the convention center, Bank of the Ozark Arena and students will need to walk to Hill Wheatley Plaza.
The Sponsors of each pre-registered team must sign in at the Registration Table in Hill Wheatley Plaza, 8:30AM - 8:45 AM. Sponsors must show signed permission slips. 
Sponsors will receive team numbers, student ID tags, chalk, sidewalk square assignment and a People's Choice Award bucket.
Artists may begin drawing at 9 am. 
Drawings must be finished at 12 PM. If not finished, all drawing activity must end and the art will be judged as is. 
Lunch is "on your own". There will be food trucks at Art Springs. There is limited seating but there are grassy areas around the festival grounds. 
Judging will occur between 12-12:45 PM.
Awards will be announced @ 1:00 PM on the Art Springs stage. Teams are encouraged to be present for the award announcements. 
Additional things to consider bringing:
Approved chalk
Sunscreen
Design
Grid/Pattern
Trash bag for waste
Kneepads
Cameras
Drinking water for team members
Canopy in case of rain
Lunches
Event registration:
Go to: https://hotspringsarts.org/chalk-walk/ to register a team.
There is no charge to participate. The team sponsor will receive an email confirmation of the registration within three days of registering. This is a free event.  Deadline to enter: April 22, 2022.
Audience: General Public
Audience Ages: Students, Youth
Student Grades:
Youth Ages:
Ticketed Event? No
Ticket Price or Fee:
Get tickets at:
Tickets are availible on the web at:
Tickets go on sale:
Contact: Liz Phone: 773-208-9545 Email: liz@hotspringsarts.org