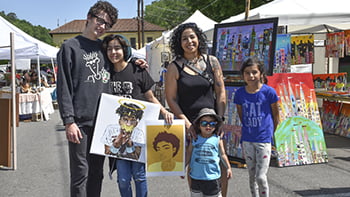 The Hot Springs Area Cultural Alliance hosted a free two-day outdoor festival held as part of the annual 10-day Hot Springs Arts & The Park celebration of the arts. Art Springs is a juried arts festival bursting with local talent from multiple genres, held at the Hill Wheatley Plaza in downtown historic Hot Springs. Festival goers enjoyed the events from 10 am – 6 pm on Saturday, May 1 and from 10 am – 4 pm on Sunday, May 2. Special musical performances were held on Saturday evening featuring Tony Stampley and Akeem Kemp.
2021 featured fine artists, artisans and Marketplace for fine crafts, a children's art activity area including a community wide chalk walk and love of literacy event, art demonstrations, the Hot Springs Renaissance Faire, multi-cultural storytelling and performance, and free, family-friendly entertainment. Food trucks were onsite for food and beverage purchases. 
CDC Covid precaution recommendations were followed by asking visitors to wear face coverings, providing hand sanitizer, and allowing more space for social distancing. Attendance was monitored to ensure social distancing recommendations were followed. 
ART SPRINGS 2021 – STAGE SCHEDULE
Saturday, May 1st
10:00am HSHS Orchestral Strings
10:45-11:45 am Dean Agus
12:00 pm Flash Mob
12:10 pm Zinse Agginie – Children's Theatre
12:40 pm Chalk Awards
12:55 pm I CAN! Dance Garland County

1:00-2:30 pm Grayson Goff Band
3:30-4:30 pm Big Papa Binns
4:30-6:00 pm Song Writing Competition
6:00-7:00 pm Tony Stampley
7:00-9:00 pm Akeem Kemp
Sunday, May 2nd
11:00 am Ricko Donovan
12:30 pm Lainie Carlson- kids theater
1:00 pm Tommy Stanco and students
2:00-2:30 pm Elmer Beard – poetry
2:30-3:00 pm Zinse Agginie – Children's Theatre
3:00-4:00 pm Jacob Flores