Arts & The Park 2017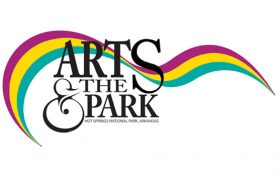 The Hot Springs Area Cultural Alliance (HSACA) is pleased to announce the return of Arts & The Park. A ten-day celebration of the arts, scheduled for April 28th - May 7th, 2017 in Downtown Hot Springs National Park, Arkansas. HSACA is excited about showcasing the thriving talent of local and statewide visual artists, musicians, dancers, poets, jewelers, potters, performers, authors, glass makers, sculptors and more in the events that will be held during Arts & The Park 2017.


Studio Tours will be a highlight of this year's festival being held Saturday, April 29th and Sunday, April 30th, where curious art lovers can go visit the personal studios of participating artists. This is a hands-on, eye-opening experience for visitors to interact one-on-one with artists and see them in their creative environments.
See the listing of open studios  Here!
There will be numerous arts events throughout the festival, including artist demonstrations at downtown galleries, artist workshops for all ages, poetry readings, concerts and more.
See a listing of all events  Here!
On Saturday, May 6th and Sunday, May 7th, Arts & The Park 2017 will close out with Art Springs, a free two-day outdoor juried art festival and showcase bursting with Arkansas artists and artisans, held at Hill Wheatley Plaza in historic downtown Hot Springs.
"Attending an arts festival in America's first National Park is an experience that is unrivaled, and it really showcases the beauty of our city, teeming with the artistic inspiration and talent of our citizens," said Kate Schaffer, HSACA Board President.
Arts & The Park 2017 is going to be our best year yet, and we look forward to the collaboration and creativity to come, as we celebrate, advocate, and promote the arts in Hot Springs.
Some of our Sponsors