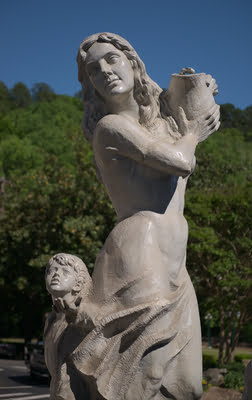 Arts & The Park, the ten-day celebration of the arts held each spring in Hot Springs, Arkansas has been rescheduled for September 25 – October 4 with outdoor and virtual offerings. Arts & The Park is hosted by the Hot Springs Area Cultural Alliance as part of the organization's mission to celebrate the arts and culture of the Hot Springs area. Previous Arts & The Park festivals have included live performances, workshops, children's events, and exhibitions. However, due to coronavirus concerns, the 2020 events had to be rethought in order ensure the safety of presenters and attendees. Some of the highlights of this years festival will include:
Art Moves Outdoor Art Exhibit to be installed along the Hot Springs Creek Greenway Trail – Ten images of original art have been selected by Arkansas artists with the theme "Art Moves" depicting physical, natural, and social movement. The artwork will be reproduced on 30″x40″ metal sheets which will be installed along the trail that runs beside Hot Springs Creek. An artist statement about the work will be adjacent to each piece. This outdoor exhibit will encourage everyone to go outdoors to enjoy nature and art during the festival and throughout the fall. The Art Moves exhibit is presented in partnership with the City of Hot Springs Parks & Trails and City of Hot Springs Arts Advisory Committee.  
Chalk Walk: A Sidewalk Chalk Event – During this event, participants will be encouraged to create Children's literature-themed works of art using colored chalk in their own driveways or in local public paved lots. Photos can be posted on the Hot Springs Area Cultural Alliance's Facebook and Instagram pages and tagged with #hschalkwalk and #hotspringsarts2020. Participation is free and sidewalk chalk kits will be available at Garland County Library during regular hours beginning September 18. Chalk Walk is presented in partnership with Walmart.  
Children's Book Giveaway – Hundreds of books and kits, for kids to make their own books, will be given to area children free of charge in order to encourage a love of the art of literature. Several pick up locations will be designated for children to receive their free book. The Children's Book Giveaway is presented in partnership with the Hot Springs Community Foundation.  
Virtual Studio Tours – In order to allow the public to visit artist studios, virtual tours of the creative spaces of area artists will be hosted on the Hot Springs Area Cultural Alliance's website. Some of the artists are also planning to open their studios for on site tours on Saturday, October 3. More details will be available in the coming weeks. The Studio Tours will be presented in partnership with Riser Ford.
Gallery Walk – The first Friday of every month from 5-9 p.m. Hot Springs area galleries and participating studio spaces open their doors for Gallery Walk. New exhibits, art events, and opportunities to meet featured artists, continue to make Gallery Walk a must for visitors and residents alike. A special Arts & the Park Gallery Walk will provide virtual visits to the gallery exhibits and features. 
Workshops and Demos – Virtual workshops and demonstrations are in the process of being organized in partnership with local artists and arts organizations using Zoom and other online platforms.  
Presented by Arvest Bank, Arts & The Park  provides a great way to immerse yourself in the arts. Support for Arts &  The Park is provided, in part, by the Arkansas Arts Council, a division of the Department of Arkansas Heritage, and the National Endowment for the Arts.