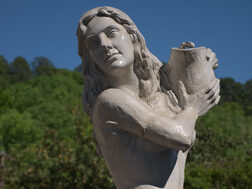 Arts & The Park, The annual ten-day spring festival celebrating the arts in Hot Springs will take place from April 30th through May 9th with indoor, outdoor, in-person, and virtual offerings.
Arts & The Park is hosted by the Hot Springs Area Cultural Alliance as part of the organization's mission to celebrate the arts and culture of the Hot Springs area. Eager to return to its full schedule of events, the 2021 Arts & The Park will include live performances, workshops, children's events, and exhibitions. However, due to coronavirus concerns, the 2021 events will adhere to mask and social distancing guidelines in order to ensure the safety of presenters and attendees. 
In honor of the centennial celebration of his birth, the 2021 Arts & The Park festival will honor local music legend Henry Glover. Henry Glover was a pioneering songwriter, producer, arranger, A&R man and musician. This overall theme of the festival is intended to recognize the 2021 centenary of the musical innovator who changed the sound of American music.
A few titles in Glover's deep catalog include: "Fever," "Drown In My Own Tears," "Teardrops On Your Letter," "Blues Stay Away From Me," "California Sun," and "The Peppermint Twist." Glover's incomparable contributions to the American songbook would be enough, but he did much more. As a ground-breaking African American producer of country music, jazz, and early R&B, his prolific work in the late 1940's helped create a new genre, even in segregated America.
Some of the highlights of this year's festival include:
Art Moves Outdoor Art Exhibit installed along the Hot Springs Creek Greenway Trail – A new local favorite, Art Moves: Griots consists of ten carefully selected images of original art inspired by the lives and works of Art Moves honorees Henry Glover and George Hunt, utilizing the thematic element of movement. A Griot is a West African troubadour, historian, or story teller who uses music, song, or poetry to maintain a tradition of oral history. The use of the word Griot for this exhibit was at the suggestion of HSACA's community partners who felt that not only were these two men Griots, but that their stories needed to be told as well.
The chosen artwork for Art Moves is reproduced onto 30″ x 40″ metal sheets which are installed along the trail that runs beside Hot Springs Creek. A QR code with links to an artist statement about the work is located adjacent to each piece.
This outdoor exhibit encourages everyone to go outdoors to enjoy nature and art during the festival and throughout the spring and summer. The Art Moves exhibit is presented in partnership with the City of Hot Springs Parks & Trails and City of Hot Springs Arts Advisory Committee, and the Black History Commission of Arkansas.
Click on the Art Moves link above to see the 2020 Art Moves exhibit pieces, which will be auctioned off at the Arts & The Park Sunday Social preview party on April 25, 2021, where the 2021 Art Moves: Griots will be revealed.
This project was funded in part by a grant from the Black History Commission of Arkansas.
Art Springs –  Art Springs is the free 2-day outdoor festival held during Arts & The Park. The events will take place on May 1-2 in Hill Wheatley Plaza in the heart of historic Hot Springs. Art Springs is a juried festival bursting with talented fine artists, artisans, and fine crafts. Food trucks, beverages for purchase and a children's area with a book giveaway, the Renaissance Fair, and storytelling make it a favorite for the entire family. 
Chalk Walk: A Sidewalk Chalk Event – On the sidewalks surrounding Art Springs, teams of young artists will create chalk masterpieces inspired by music on the morning of May 1.
Children's Book Giveaway – Hundreds of books are given, free of charge, to area children to foster a love of the art of literature. The Children's Book Giveaway is presented in partnership with the Hot Springs Community Foundation.  Books are distributed while supplies last at Art Springs on May 1-2.
Songwriting Competition – The contest pays homage to local music legend, and festival honoree, singer/songwriter Henry Glover. Nashville based musician, Tony Stampley, will be the contest's celebrity judge and host of a live, possibly virtual, show on Saturday, May 1st. Viewers can look forward to a live performance by Stampley, sponsored by Alliance Rubber.
Studio Tours –  Artists open their studios for on-site tours on May 8 – 9.  Studio Tours are presented in partnership with Riser Ford. Wildly popular among festival goers, Studio Tours is a free self-guided tour that allows visitors to catch a rare glimpse into the inner workings of the artistic process. 
Gallery Walk – The first Friday of every month from 5-9 p.m. Hot Springs area galleries and participating studio spaces open their doors for Gallery Walk. New exhibits, art events, and opportunities to meet featured artists, continue to make Gallery Walk a must for visitors and residents alike. A special Arts & The Park Gallery Walk will provide virtual and in-person visits to the gallery exhibits and features. 
Soul's Food – The Hot Springs Area Cultural Alliance is launching a campaign to nourish the hungry soul. In cooperation with local food banks, HSACA will coordinate the project which will provide small pieces of original art created by local artists, to area food banks for distribution with emergency food boxes.  Over the past year many have relied on local food banks in order to feed their families. This will allow these families to not only have access to food, but also to the beauty of original artwork to feed the soul. 
Presented by Arvest Bank, Arts & The Park  provides a great way to immerse yourself in the arts. Support for Arts & The Park is provided, in part, by the Arkansas Arts Council, a division of the Department of Arkansas Heritage, and the National Endowment for the Arts.
A huge thank you to our 2021 Arts & The Park Sponsors