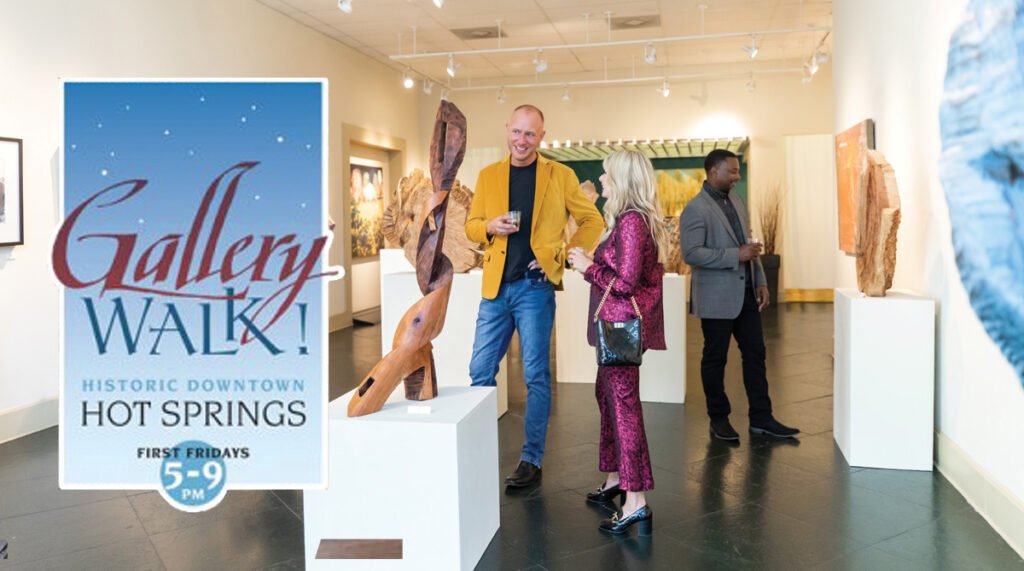 Happy Anniversary Gallery Walk! The beloved event is celebrating 33 years of engaging art in a dynamic community with a champagne toast at 5 p.m. on August 5 at all participating galleries. Come toast the gallery owners and the artists who have made this tradition 33 years strong.
Held the first Friday of every month since 1989 in its scenic and historic downtown, Hot Springs' monthly Gallery Walk features the opening of new art exhibitions showcased in downtown fine art galleries and studio spaces. From contemporary to traditional, the diverse offerings of Gallery Walk arts and cultural scene place Hot Springs as the place to be the first Friday of each month.
The following galleries will be open for Gallery Walk on Friday, August 5.
Dryden Pottery – 341 Whittington Avenue
With over 75 years of research and development, the 3rd generation owner features in-house formulated glazes and custom blended clay combined to create a finished quality that is easily recognizable as "Dryden." This month Dryden will also Little Rock artist Guy Bell's paintings on display
Circle Gallery at Emergent Arts – 341 A Whittington Avenue
The opening of an exhibition by Prime Time Painters at Emergent Arts will be featured in the Circle Gallery. The Prime Time Painters are a group of painters who meet weekly to paint as a group at Emergent Arts.
Whittington Gallery – 307 Whittington Avenue
Established in 2016, Whittington Gallery is a hidden Hot Springs gem, exhibiting incredible and unique works of art. With 50 local artists displaying their work everyone who visits finds something they love. There will be drawings throughout the night for up to 8 pieces of art donated by Whittington Gallery artists.
Gallery Central – 340 Central Ave.
The gallery features original fine art in diverse styles and mediums from Arkansas artists as well as internationally known artists; and also carries women's clothing, gifts, and housewares.
Artists' Workshop Gallery – 310A Central Ave
Artists' Workshop Gallery is a cooperative art gallery owned and operated by over twenty-five local artists that offers a wide variety of paintings, including watercolor, acrylic, oil, pastel, collage, mixed mediums and photography. The gallery also features fabric art, pottery, glass works, journals, jewelry, note cards, miniature paintings and sculpture
Wrapped Gift Boutique – 404 Central Ave
Wrapped Gift Boutique introduces New Bathhouse Paintings by Alison Parsons. Developing a new collection of work Parsons has expanded her style in a gestural, lyrical expression.
Ozark Bath House – 425 Central Avenue
Jeri Hillis who was the Artist-in-Residence at Hot Springs National Park in 2021 will be displaying her work. A reception is being hosted by Friends of Hot Springs National Park from 5-7pm.
All Things Arkansas – 610 Central Avenue
Features products from Arkansas, made in Arkansas, and relating to Arkansas.
American Art Gallery and Gifts LLC – 724 Central Avenue
The oldest gallery in Hot Springs, open continuously since the very first gallery walk, featuring a wide array of artwork and gift items.
Rebecca Peterman Photography – 801 Central Avenue, Suite 30
The photographic art of Rebecca Peterman including architectural photos of downtown Hot Springs and the premier of her 50/Fifty Series of portrait stories of women over 50 and the ways they transform as they age.
Legacy Fine Art Gallery – 804 Central Ave.
Legacy Fine Art Gallery features an ever changing variety of artwork by local and internationally known artists such as Vangelis, Eva Makk, Americo Makk, Robert Lyn Nelson, and Jim Pescott, just to name a few!
Justus Fine Art Gallery – 827 A Central Avenue
The June Exhibit at Justus Fine Art Gallery, will feature a selection of new work by Matthew Hasty, along with work by Mike Elsass, Robyn Horn, Dolores Justus, John Lasater, Dennis McCann, Sammy Peters, Laura Raborn, Michael Francis Reagan, Sandra Sell, Gene Sparling, Elizabeth Weber, and others
Esther's Gallery and Gifts – 305 Broadway St.
Opening in 2021, Esther's is an elegantly urban and ever-changing 2000 sq. ft. art gallery that aims to profile world-class artwork of painters, sculptors, ceramicists, photographers, designers, printmakers, craftsmen, and more. Featured artists include Ryan Rooney, Don Watson, Angelina Hardin, Wayne Summerhill, Justin Warrick, Steve Johnson and more. To help celebrate 33 years of Gallery Walk, the Ester's will extend outside with a number of local artists and music by Dean Agus.