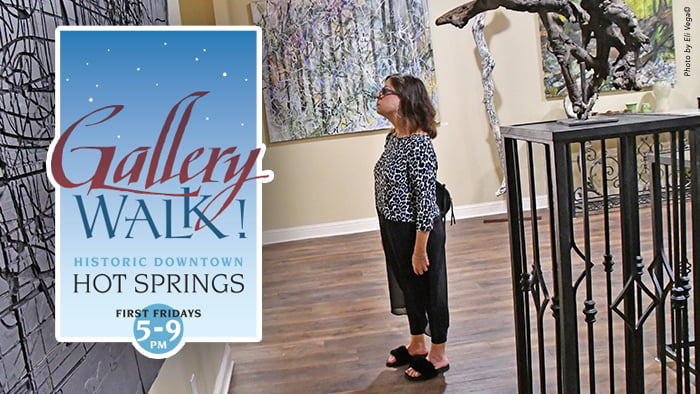 Arts & The Park is in full swing! May Gallery Walk marks the beginning of the second, and closing, weekend of the annual 10-day arts festival. No need to fret, there's still plenty to do at Gallery Walk and at Arts & The Park.
Held the first Friday of every month since 1989 in scenic and historic downtown Hot Springs, Gallery Walk features the opening of new art exhibitions showcased in the downtown fine art galleries and studio spaces. From contemporary to traditional, the diverse offerings of Gallery Walk's art and cultural scene make downtown Hot Springs the place to be on the first Friday of each and every month.
Friday, April 1st, the following galleries will be opening their doors and inviting you to be a part of this sublime 31 year old tradition. Visit
hotspringsarts.org
for more information.
The following galleries will be open for Gallery Walk on Friday, May 6th.
Dryden Pottery – 341 Whittington Avenue
With over 75 years of research and development, the 3rd generation owner features in-house formulated glazes and custom blended clay combined to create a finished quality that is easily recognizable as "Dryden."
Circle Gallery at Emergent Arts – 341 A Whittington Avenue
Join us for Family Traditions, an exhibition of new and old, traditional and non-traditional quilts. Members of the community share their special quilts with us. Opening for Gallery Walk, May 6th from 5-8p. Emergent Arts hours: Tues-Sat, 12-5p.
Established in 2016, Whittington Gallery is a hidden Hot Springs gem, exhibiting incredible and unique works of art. With 50 local artists displaying their work everyone who visits finds something they love. Each year, the gallery hosts a number of exhibitions, programs, and events that help bring the general public closer to the wonderful world of art.
Gallery Central – 340 Central Ave.
The gallery features original fine art in diverse styles and mediums from Arkansas artists as well as internationally known artists; and also carries women's clothing, gifts, and housewares.
Artists' Workshop Gallery – 310A Central Ave
Artists' Workshop Gallery will feature Irma McLeod, a native of Mexico who will present new whimsical works, and Moonokie McIntire, a native of South Korea showcasing her watercolor and oil. The Gallery will also have their popular coloring books of Hot Springs attractions on hand as a gift for children
Wrapped Gift Boutique – 404 Central Ave
Wrapped Gift Boutique celebrates Mother's Day weekend during Friday evening's Gallery Walk. Featuring meaningful and memorable gifts the evening will highlight artwork by Alison Parsons and Riley Art Glass..
All Things Arkansas – 610 Central Avenue
Featuring art and products from Arkansas, made in Arkansas, and relating to Arkansas. Join them this Friday for wine and refreshments, and enjoy hearing Ben Carey live!
American Art Gallery and Gifts LLC – 724 Central Avenue
Visitors can enjoy wood scroll work and acrylic with led lights. Amber Anderson Wood turnings by Virgil Barksdale and Acrylic paintings by Jimmy Leach
Rebecca Peterman Photography – 801 Central Avenue, Suite 30
The photographic art of Rebecca Peterman including architectural photos of downtown Hot Springs and the premier of her 50/Fifty Series of portrait stories of women over 50 and the ways they transform as they age. 
Legacy Fine Art Gallery – 804 Central Ave.
Legacy Fine Art will be featuring work by artist Stephen Harlan who is known for his colorful and dramatic nautical themes. Harlan creates his work digitally one pixel at a time and transfers his art onto both canvas and aluminum.
Justus Fine Art Gallery – 827 A Central Avenue 
The May Exhibit at Justus Fine Art Gallery, will feature a selection of paintings by Dolores Justus, along with work by Mark Blaney, Susan Chambers, Mike Elsass, Robyn Horn, Sammy Peters, Michael Francis Reagan, Sandra Sell, Gene Sparling, Elizabeth Weber, and others.
The Warehouse – 301 East Broadway
Join The Warehouse for the May Gallery Walk. Pleasantly Blue will be performing live and lots of talented local artist will be displaying and selling their work!
Esther's Gallery and Gifts – 305 Broadway St.
Stop by Hot Springs' newest gallery featuring diverse and high-quality art of all genres created by both new and established artists.
Featured artwork:
Photo by Eli Vega Photography