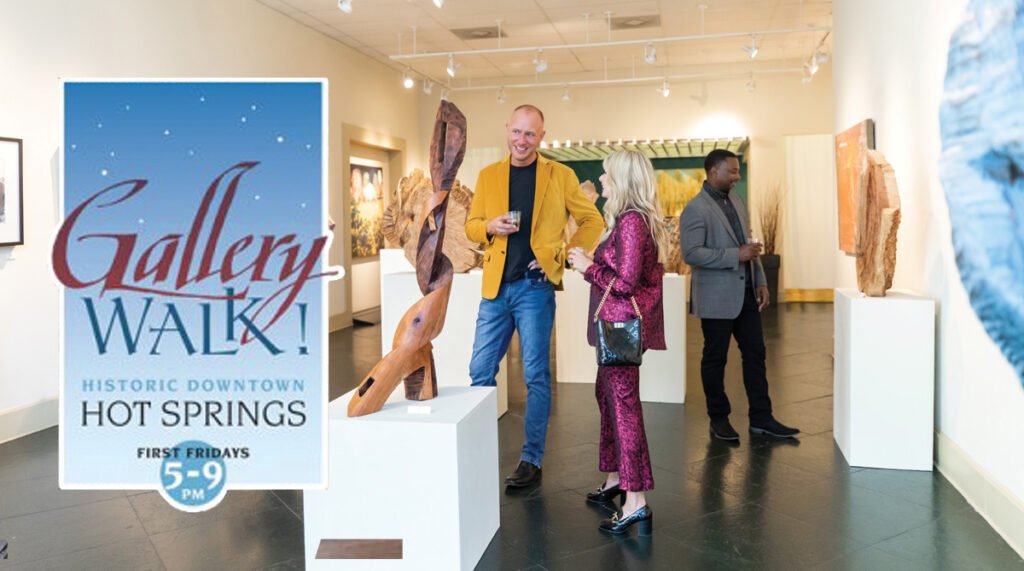 Arts & The Park is in full-swing and the second weekend begins with Gallery Walk!
May Gallery Walk may be your only opportunity to view some of the original pieces of art that were selected for reproduction for the 2023 installation of the Art Moves outdoor art exhibition. Several galleries will have the original works on display for one night only. 
Held the first Friday of every month since 1989 in its scenic and historic downtown, Hot Springs' monthly Gallery Walk features the opening of new art exhibitions showcased in downtown fine art galleries and studio spaces. From contemporary to traditional, the diverse offerings of Gallery Walk arts and cultural scene place Hot Springs as the place to be the first Friday of each month.
The following galleries will be open for Gallery Walk on Friday, May 5:
The Club House – 118 Arbor St.
The Local Art Entity will feature LIVE MUSIC for the April Gallery Walk. Our Spring resident band is SAWYER. The lead singer, Iris Sawyers, is also an art market vendor with The Local Art Entity, "The Flying Lantern". You can find The Flying Lantern at the Hot Springs Farmers Market regularly. Iris sells her art and unique makings to help with expenses at National Park College where she will be starting full-time this Summer.
Dryden Pottery – 341 Whittington Avenue
We are now showing the paintings of local artist Rana Ward, the high school art teacher at Lake Hamilton High. We will also be showing the pottery Caitlyn Gray has been making for us while she has been employed here through the Pathways Program. 
Circle Gallery at Emergent Arts – 341 Whittington Ave.
The Circle Gallery at Emergent Arts is showing the works created at Art Springs' Under Pressure event. Works printed using a steamroller on Spring St will be available for viewing during May Gallery Walk. Emergent Arts' business hours are Tues-Sat, noon-5PM.
Whittington Gallery – 307 Whittington Avenue
Come celebrate the rich diversity of people and art with us on Cinco de Mayo!
Our First Friday Gallery Walk nights are a fun opportunity to meet local art lovers and some of the 60 artists that exhibit work here in our 5000 sq ft space, and the breeze on our back patio while sipping on a complimentary drink and nachos. Ample indoor seating means you can sit back comfortably while your other shops. We will be exhibiting TAG's "Art of the Month" winner: "Faded Glory" by Jennifer Wheeler Peterson. Park in the quiet Whittington Art District and enjoy the evening walk to other galleries and shops.
Wrapped Gift Boutique – 404 Central Ave
Wrapped Gift Boutique features new paintings by Alison Parsons. Developing a new collection of work Parsons has expanded her style in a gestural, lyrical expression. Also enjoy Riley art glass and more!
All Things Arkansas – 610 Central Avenue
Art Moves: Art & Soul exhibiting artists Margarita Peraza-Rugeley and Lesley Roegner will display their original pieces for May Gallery walk. See the originals of the works that have been reproduced and displayed along the Hot Springs Creek Greenway Trail outdoor art exhibition. The gallery features products from Arkansas, made in Arkansas, and relating to Arkansas, with one-of-a-kind local treasures.
Artists' Workshop Gallery – 610A Central Ave
The curating team reconfigured the Artists Workshop Gallery to maximize floor space and create better flow, giving customers a better viewing experience. If you haven't been to the gallery recently, I urge you to come out and see us for gallery walk! Featured artists are. Irma McLeod and Bonnie Ricci, as well as Lake Hamilton's graduating AP students. Miniature Art Featured Artists are Jan Briggs and Linda Shearer.
DeSoto Rock & Gift Shop – 626 Central Ave.
You will find more than rocks at DeSoto Rock & Gift Shop with a recent expansion to include some of Hot Springs' most gifted artists. Art, décor, jewelry, as well as an expansive collection of gem and minerals from all over the world wait to greet you at Gallery.
Rebecca Peterman Photography – 801 Central Avenue, Suite 30
The photographic art of Rebecca Peterman including architectural photos of downtown Hot Springs and the premier of her 50/Fifty Series of portrait stories of women over 50 and the ways they transform as they age. 
Justus Fine Art Gallery – 827 A Central Avenue
The May Exhibit at Justus Fine Art Gallery will feature a selection of paintings by Robyn Horn, Sammy Peters, Elizabeth Weber, and others, along with sculpture by Robyn Horn, Sandra Sell, Gene Sparling, and Michael Warrick. Work by selected artists from the Art Moves Outdoor Exhibit, part of Arts & The Park–the ten-day celebration of the arts hosted by the Hot Springs Area Cultural Alliance, will be displaying their original pieces in the May Exhibit. Selections from work created by artists participating in the "Painting the Arkansas Parks" plein air event in Hot Springs during Arts & The Park will also be displayed during the show. The plein air artists are members of the Heart of America Artists' Association based in Northwest Arkansas.
The Warehouse – 301 Broadway St.
Come join us for the May Gallery Walk at The Warehouse! Pleasantly Blue will be performing live and lots of talented local artist will be displaying and selling their work! There is still time to get your artwork displayed at this month's event!