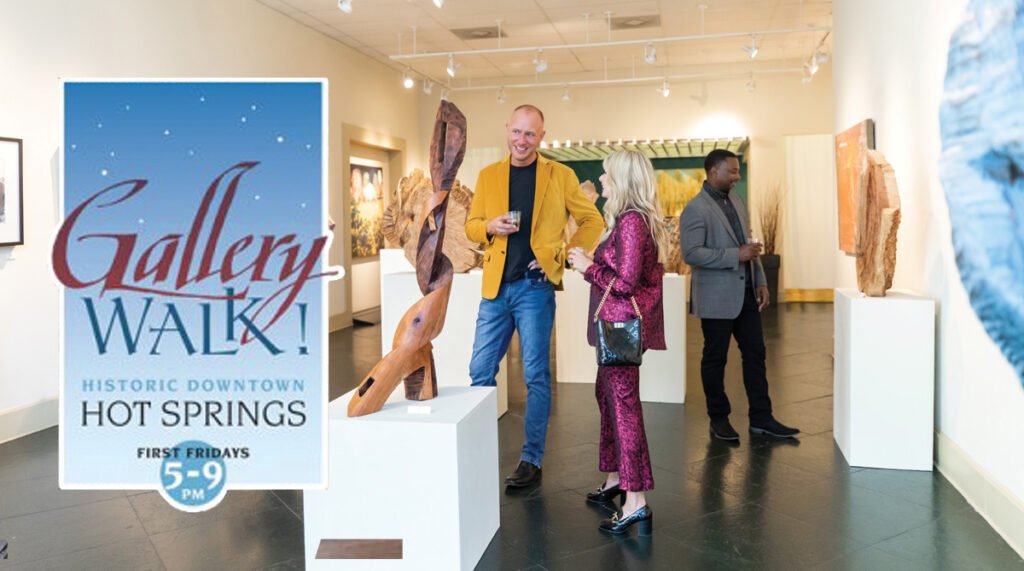 Happy New Year! What great resolutions did you make? Be more active? Participate more in community events? Support more local business? Make new friends? Check all those boxes at January Gallery Walk. 
Held the first Friday of every month since 1989 in its scenic and historic downtown, Hot Springs' monthly Gallery Walk features the opening of new art exhibitions showcased in downtown fine art galleries and studio spaces. From contemporary to traditional, the diverse offerings of Gallery Walk arts and cultural scene place Hot Springs as the place to be the first Friday of each month.
The following galleries will be open for Gallery Walk on Friday, January 6th:
The Club House – 118 Arbor St.
The Local Art Entity, a network for artists in Hot Springs, is now participating in Gallery Walk on the first Friday of every month. They will host an Art Market and an Open Mic Night during the Walk at The Club House Hot Springs, an exciting new event venue. With a Family Sip & Paint activity area, there's artistic fun to be had by all!
Dryden Pottery – 341 Whittington Avenue
Is offering workspace tours including showing new works in progress and giving pottery wheel demonstrations. Dryden is also excited to show the paintings of acrylic/oil painter Kristi Ahlquist! A culmination of over 75 years of research and development. Third Generation Owned and Operated. In-house formulated glazes and custom blended clay combine to create a finished quality that is easily recognizable as "Dryden." They are made with the local Arkansas quartz silica mined nearby in Malvern, AR. and processed here in Hot Springs! Dynamic pieces have become prized by collectors from all over the world!
Whittington Gallery – 307 Whittington Avenue
Come celebrate the arts community at the gallery that's known to have good vibes and much to admire! 47 local artists are a part of our gallery, many of whom you may meet and connect with during our monthly gallery walk and weekend Pop-in Pop-ups! Enjoy plenty of seating, an open back porch, drinks and snacks, all for your enjoyment.
Gallery Central – 340 Central Ave.
The gallery features original fine art in diverse styles and mediums from Arkansas artists as well as internationally known artists; and also carries women's clothing, gifts, and housewares.
Wrapped Gift Boutique – 404 Central Ave
Wrapped Gift Boutique introduces New Bathhouse Paintings by Alison Parsons. Developing a new collection of work Parsons has expanded her style in a gestural, lyrical expression. Also enjoy Riley art glass and more!
All Things Arkansas – 610 Central Avenue
Features products from Arkansas, made in Arkansas, and relating to Arkansas.
Artists' Workshop Gallery – 610A Central Ave
Artists' Workshop Gallery kicks off 2023 with an All Artists Exhibit for January and February. Established in 1990, Artists' Workshop Gallery is the longest continuously running gallery in Hot Springs. It is comprised of over thirty local artists. The annual All Artists Exhibit features the work of all the Gallery's members, along with the work they have in their respective displays. A collective exhibit of miniature art will also be displayed in January. Charlie Mink will entertain visitors with tunes on his dulcimer during Gallery Walk.
DeSoto Rock & Gift Shop – 626 Central Ave.
You will find more than rocks at DeSoto Rock & Gift Shop with a recent expansion to include some of Hot Springs' most gifted artists. Art, décor, jewelry, as we as an expansive collection of gem and minerals formal over the world wait to greet you at Gallery.
Rebecca Peterman Photography – 801 Central Avenue, Suite 30
The photographic art of Rebecca Peterman including architectural photos of downtown Hot Springs and the premier of her 50/Fifty Series of portrait stories of women over 50 and the ways they transform as they age.
Justus Fine Art Gallery – 827 A Central Avenue
The New Year's Exhibit at Justus Fine Art Gallery will feature a selection of work by Mark Blaney, Donnie Copeland, Matthew Hasty, Robyn Horn, Dolores Justus, Dennis McCann, Sammy Peters, Sandra Sell, Gene Sparling, and others. The galley will host a reception from 5-9 p.m. on Friday, January 6 as part of the monthly Gallery Walk in downtown Hot Springs. The exhibit will be on display January 6 – 31, 2023.
Esther's Gallery and Gifts – 305 Broadway St.
Esther's is an elegantly urban and ever-changing 2000 sq. ft. art gallery that aims to profile world-class artwork of painters, sculptors, ceramicists, photographers, designers, printmakers, craftsmen, and more.