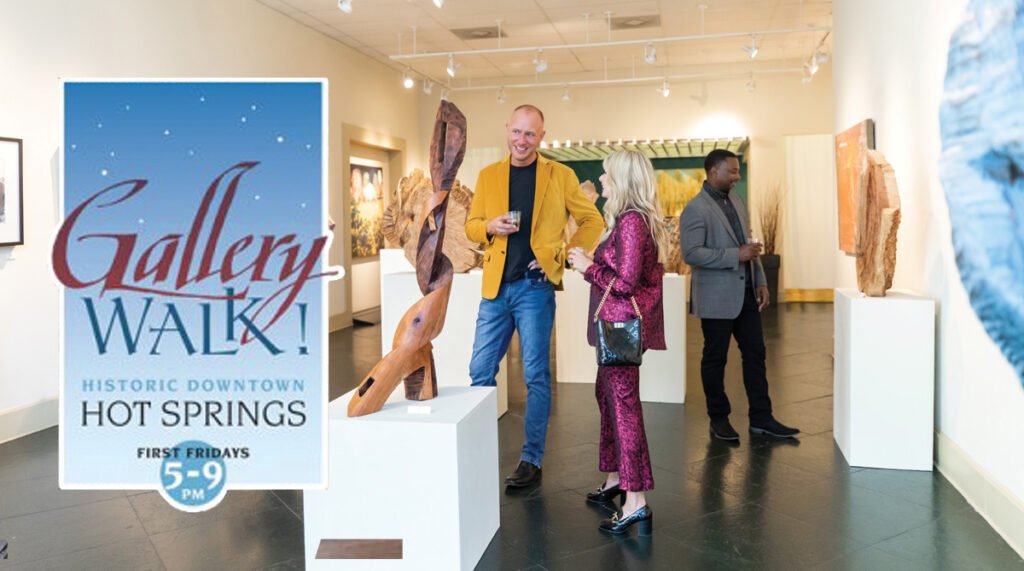 September Gallery Walk
Friday, September 1
5 p.m. to 9 p.m.

September Gallery Walk honors the life and legacy of Willie Gilbert of American Art Gallery. Willie Gilbert, co-owner of the American Art Gallery & Gifts, Central Avenue in Downtown Hot Springs, has been an integral force in shaping the creative culture of Hot Springs. Dating back to 1996, Ann and Willie Gilbert began their journey at the Arkansas Art Gallery, later purchasing, moving, expanding, and renaming the business to American Art Gallery & Gifts, where it stands at its current location, 724 Central Avenue. The Gallery is the last of the original galleries in the 34-year-long Gallery Walk tradition and will host a special remembrance honoring Willie's life and contribution to the arts community.
Held the first Friday of every month since 1989 in its scenic and historic downtown, Hot Springs' monthly Gallery Walk features the opening of new art exhibitions showcased in downtown fine art galleries and studio spaces. From contemporary to traditional, the diverse offerings of Gallery Walk arts and cultural scene place Hot Springs as the place to be the first Friday of each month.
The following galleries will be open for Gallery Walk on Friday, September 1st:
The Club House – 118 Arbor St.
Come check out the most happening gallery during September's Gallery Walk 4-8pm. Mingle with some of our 60 local artists and fellow art enthusiasts and experience how we inspire each other through creativity and camaraderie. Within our 5000sq ft of space filled with art, you are sure to find something to fall in love with! Open Thursday-Saturday 10-4 Sunday 12-4 at www.thelocalartentity.com.
Dryden Pottery – 341 Whittington Avenue
A culmination of over 75 years of research and development. Third Generation Owned and Operated. In-house formulated glazes and custom blended clay combine to create a finished quality that is easily recognizable as "Dryden." We have a number of new vintage Dryden pottery available for sale in our showroom as well as new pieces! We are also exhibiting the artistic photos of Terry Baumgartner. 
Circle Gallery at Emergent Arts – 341 Whittington Ave.
The Prime Time Painters, a members group that paints together on Tuesday afternoons at Emergent Arts, will be showing their work at the Sept 1st gallery walk from 5-8 pm. This is the closing reception. Gallery hours are noon-5pm, Tuesday through Saturday.
Whittington Gallery – 307 Whittington Ave.
Come check out the most happening gallery during September's Gallery Walk. Mingle with some of our 60 local artists and fellow art enthusiasts. We always provide a delicious and refreshing spread to share with the community while inspiring each other through creativity and camaraderie. With ample parking on Whittington Ave, you can safely park near us to start your tour. We offer plenty of comfortable seating to rest and cool off. Within our 5000sq ft of space filled with art, you are sure to find something to fall in love with!
Gallery Central – 340 Central Avenue
The gallery features original fine art in diverse styles and mediums from Arkansas artists as well as internationally known artists; and carries women's clothing, gifts, and housewares.
Wrapped Gift Boutique – 404 Central Ave
Wrapped Gift Boutique features the art of Alison Parsons, Riley art glass and more! Alison will be debuting her 2nd Holiday ornament in her limited-edition Bathhouse series (Lamar). All ornaments are signed and dated. We will also have limited quantities of last year's ornament (Quapaw) on hand for anybody who missed it!
All Things Arkansas – 610 Central Avenue
Features products from Arkansas, made in Arkansas, and relating to Arkansas. Open for Gallery Walk with one-of-a-kind local treasures.
Artists' Workshop Gallery – 610A Central Ave
Artists' Workshop Gallery is pleased to announce September's Featured Artists, June Lamoureux and Rhonda Rogers, and featured Miniature Artists are Jan Briggs and Linda Shearer. Charlie Mink will entertain with tunes on his dulcimer during Gallery Walk, September 1, 5-9 pm. 
DeSoto Rock & Gift Shop – 626 Central Avenue
You will find more than rocks at DeSoto Rock & Gift Shop with a recent expansion to include some of Hot Springs' most gifted artists. Art, décor, jewelry, as we as an expansive collection of gem and minerals formal over the world wait to greet you at Gallery.
Rebecca Peterman Photography – 801 Central Avenue, Suite 30
The photographic art of Rebecca Peterman including architectural photos of downtown Hot Springs and the premier of her 50/Fifty Series of portrait stories of women over 50 and the ways they transform as they age. 
Legacy Fine Art Gallery – 804 Central Ave
Legacy Fine Art Gallery features an ever changing variety of artwork by regional and internationally known artists such as Fidel Garcia, Carole Katchen, Vangelis, Eva, Americo and AB Makk, Elizabeth Weber, Boban, and Jim Pescott to name a few!
Justus Fine Art Gallery – 827 A Central Avenue
Justus Fine Art Gallery will continue to showcase a selection of artist studies, along with examples of Justus Fine Art Gallery will host Seeing: a Photography Exhibition in September. The exhibit will feature work by Beverly Buys, Robbie Brindley, George Chambers, Don House, Carey Roberson, Andie Roberts, and Eli Vega. Along with the individuality of artistic styles, a range of photographic processes will also be displayed. In conjunction with the photography show, a Haiku poetry competition, inspired by the works on display, will be held throughout the month. The opening reception will be held from 5-9 p.m. on Friday, September 1 as part of the monthly Gallery Walk in downtown Hot Springs. The exhibit will be on display September 1-30, 2023.