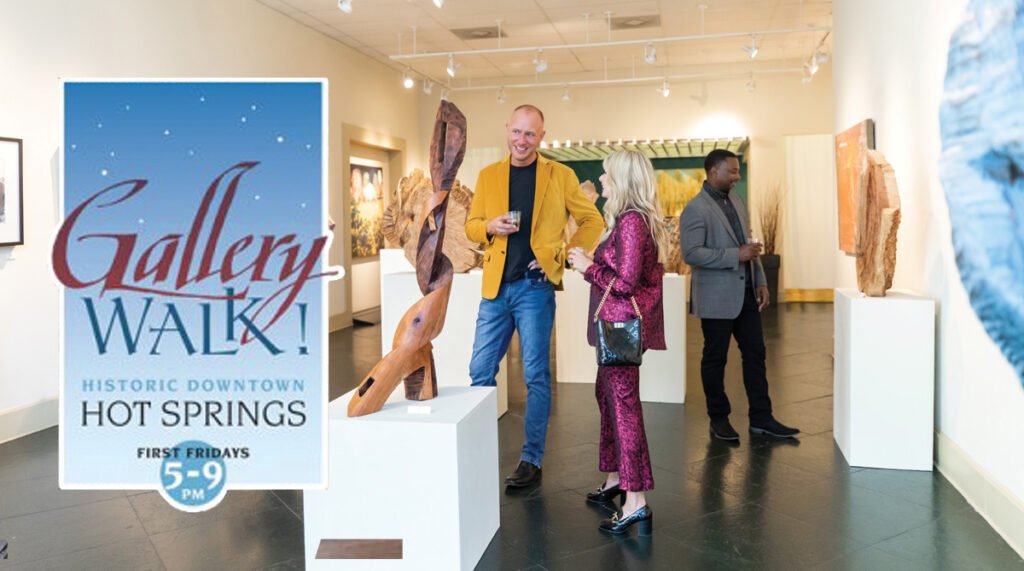 Jingle all the way through December Gallery Walk and give the gift of art.

This month's Gallery Walk is also happy to welcome The Local Arts Entity at Club House to its first Galley Walk. The Local Art Entity, a network of artistry in Hot Springs, will be hosting Art Markets and Open Mic Nights during Gallery Walk at The Club House Hot Springs, an exciting new event venue at 118 Arbor Street
Held the first Friday of every month since 1989 in its scenic and historic downtown, Hot Springs' monthly Gallery Walk features the opening of new art exhibitions showcased in downtown fine art galleries and studio spaces. From contemporary to traditional, the diverse offerings of Gallery Walk arts and cultural scene place Hot Springs as the place to be the first Friday of each month.
The following galleries will be open for Gallery Walk on Friday, December 2nd:
The Club House – 118 Arbor St.
The Local Art Entity, a network for artists in Hot Springs, is now participating in Gallery Walk on the first Friday of every month. They will host an Art Market and an Open Mic Night during the Walk at The Club House Hot Springs, an exciting new event venue. With a Family Sip & Paint activity area, there's artistic fun to be had by all!
Dryden Pottery – 341 Whittington Avenue
Will be exhibiting beautiful paintings by Moonokie McIntire. A culmination of over 75 years of research and development. Third Generation Owned and Operated. In-house formulated glazes and custom blended clay combine to create a finished quality that is easily recognizable as "Dryden." They are made with the local Arkansas quartz silica mined nearby in Malvern, AR. and processed here in Hot Springs! Dynamic pieces have become prized by collectors from all over the world!
Circle Gallery at Emergent Arts – 341 A Whittington Avenue
Winter Wonderland Tree Competition and Canned Food Drive. Join us for our Winter Wonderland art tree competition and canned food drive to benefit Project Hope Food Bank. The Spa City Tappers will be performing, and Santa and Mrs. Claus will make an appearance. The exhibition will open on Dec 2nd, during gallery walk from 5-8P. Santa and Mrs. Claus will stop by 5-6PM for pictures, & Spa City Tappers will perform at 6:30P. The show will be open through the month of December.
Whittington Gallery – 307 Whittington Avenue
Whittington gallery will be celebrating the December gallery walk with live music by artist Lisa Kent playing violin and cello. Traditional Art Guild will have their Art of the Month featured here by artist Hildegard Honald. We will be extending our support to the community by accepting canned food and blanket donations for Salvation Army which can be dropped off at the gallery during the month of December. We exhibit work by 48 local artists, 10 of which are new to the gallery so there will be lots to admire! Drinks and snacks will be available.
Gallery Central – 340 Central Ave.
The gallery features original fine art in diverse styles and mediums from Arkansas artists as well as internationally known artists; and also carries women's clothing, gifts, and housewares.
Wrapped Gift Boutique – 404 Central Ave
Wrapped Gift Boutique introduces New Bathhouse Paintings by Alison Parsons. Developing a new collection of work Parsons has expanded her style in a gestural, lyrical expression. Also enjoy Riley art glass and more!
All Things Arkansas – 610 Central Avenue
Features products from Arkansas, made in Arkansas, and relating to Arkansas.
Artists' Workshop Gallery – 610A Central Ave
Featured Artists for December at Artists' Workshop Gallery are Jerry Matusky and Emanuel Alvarez Valencia. Miniature Art featured artists for December are Jim Reimer and a Group Christmas- themed display. Jessieville High School art students are displaying their work at the Gallery during December. 
DeSoto Rock & Gift Shop – 626 Central Ave.
You will find more than rocks at DeSoto Rock & Gift Shop with a recent expansion to include some of Hot Springs' most gifted artists. Art, décor, jewelry, as we as an expansive collection of gem and minerals formal over the world wait to greet you at Gallery
American Art Gallery and Gifts LLC – 724 Central Avenue
The oldest gallery in Hot Springs, open continuously since the very first gallery walk, featuring a wide array of artwork and gift items. Featuring the wall art of Jimmy Leach. His work can be found in collections throughout the United States, as well as Canada, Australia, England and Japan, locally at St Vincent Hospital and the convention center, and throughout the state at Mercy Hospital in Fort Smith and Fort Smith Regional Art Museum.
Rebecca Peterman Photography – 801 Central Avenue, Suite 30
The photographic art of Rebecca Peterman including architectural photos of downtown Hot Springs and the premier of her 50/Fifty Series of portrait stories of women over 50 and the ways they transform as they age.
Justus Fine Art Gallery – 827 A Central Avenue
The December Exhibit at Justus Fine Art Gallery will feature a selection of work by Susan Baker Chambers, Matthew Hasty, Robyn Horn, Dolores Justus, Sammy Peters, Tony Saladino, Sandra Sell, Gene Sparling, and more. 
Esther's Gallery and Gifts – 305 Broadway St.
Esther's is an elegantly urban and ever-changing 2000 sq. ft. art gallery that aims to profile world-class artwork of painters, sculptors, ceramicists, photographers, designers, printmakers, craftsmen, and more.