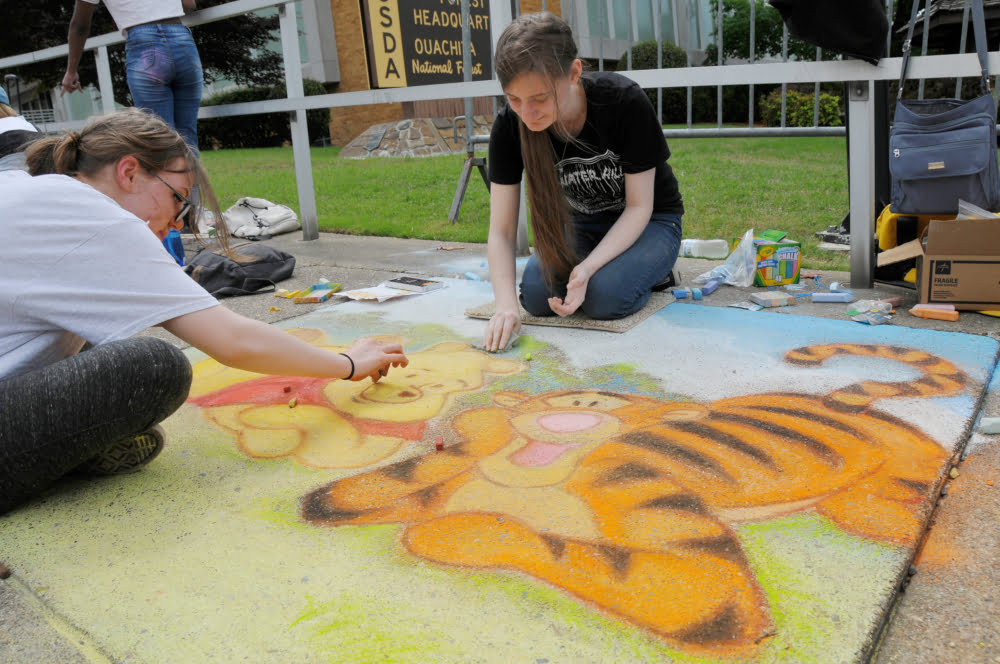 The Arts & The Park 2021 Festival is scheduled for April 30 – May 9. HSACA is working to update the calendar of events to reflect evolving Covid-19 guidelines. The 2021 festival will utilize virtual, in-person, indoor, and outdoor events. We ask that all participants at live events practice social distancing and wear a mask. Please visit the links below to view the offerings for the 2021 Arts & The Park festival.

Art Springs

Hosted by: HSACA
Event Type: Event
When:
May 1, 2021, May 2, 2021 Starting at: 10:00 AM, 10:00 AM til: 6:00 PM, 4:00 PM, Doors Open:
Location:
Hill Wheatley Plaza
629 Central Ave
Hot Springs, AR 71901
Description:

A free two-day outdoor festival, Art Springs is a juried arts festival bursting with local talent from multiple genres, held at the Hill Wheatley Plaza in downtown historic Hot Springs. Festival goers can enjoy the events from 10 am - 6 pm on Saturday, May 1 and from 10 am - 4 pm on Sunday, May 2.
This year will feature an expanded venue area to allow for ample social distancing, which includes Art Village for fine artists, artisans and Marketplace for fine crafts, children's art activity area including a community wide chalk walk and love of literacy event, art demonstrations, the Hot Springs Renaissance Faire, and free family-friendly entertainment. Food trucks and beverages will be available for purchase on site.
Art Springs Stage will host multiple musical performances, including the final round of the songwriting competition at 3 pm, Tony Stampley, celebrity judge of the songwriting competition, at 7 pm, and Akeem Kemp performing at 7 pm.
The Art Springs Children's area will feature kid-focused art activities hosted by the Garland County Library from 10 am - 4 pm on Saturday, May 1st. Each of the 6 different activities begin on the hour and lasts for one hour.
ART SPRINGS 2021 – STAGE SCHEDULE
Saturday, May 1st
10:00am HSHS Orchestral Strings
10:45-11:45am Dean Agus
12:00pm Flash Mob
12:10 pm Bagar Productions – Children's Theatre
12:40 pm Chalk Awards
12:55 pm I CAN! Kids
1:00-2:30 pm Grayson Goff Band
3:30-4:30 pm Big Pappa Binns
4:30-6:00 pm Song Writing Competition
6:00-7:00 pm Tony Stampley
7:00-9:00 pm Akeem Kemp
Sunday, May 2nd
11:00 am Ricko Donovan
12:30 pm Lainie Carlson- kids theater
1:00 pm Tommy Stanco and students
2:00-2:30 pm Elmer Beard – poetry
2:30-3:00 pm Bagar Production – Children's Theatre
3:00-4:00 pm Jacob Flores
Audience: General Public
Audience Ages: All Ages
Student Grades:
Youth Ages:
Ticketed Event? No
Ticket Price or Fee:
Get tickets at:
Tickets are availible on the web at:
Tickets go on sale:
Contact: Liz Phone: 773-208-9545 Email: liz@hotspringsarts.org
Website: http://www.hotsprignsarts.org
Facebook: https://www.facebook.com/events/268144334891979?acontext=%7B%22event_action_history%22%3A%5B%7B%22mechanism%22%3A%22search_results%22%2C%22surface%22%3A%22search%22%7D%5D%7D