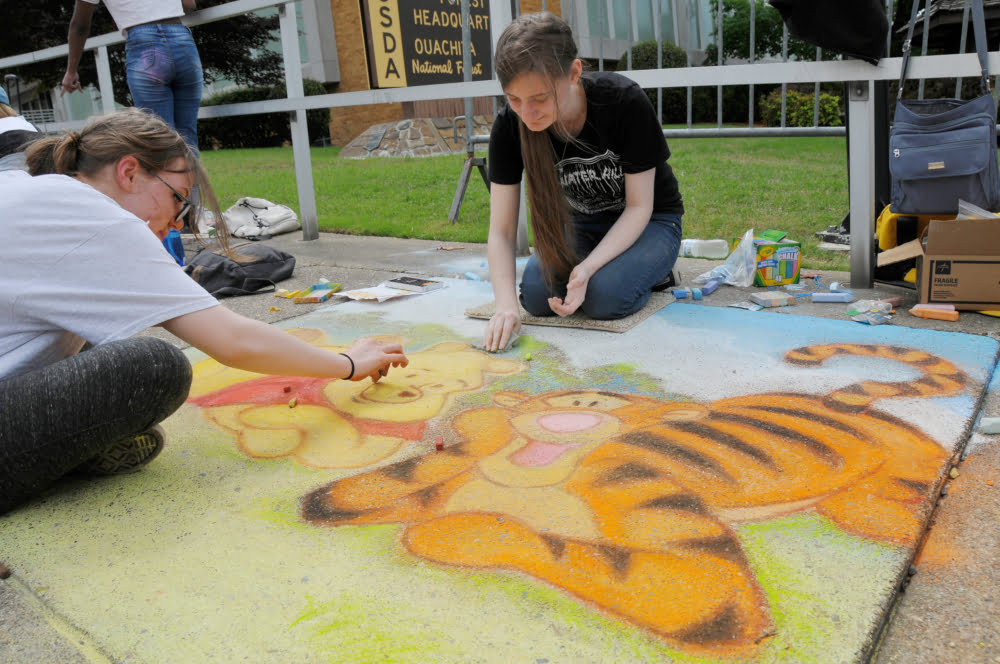 The Arts & The Park 2021 Festival is scheduled for April 30 – May 9. HSACA is working to update the calendar of events to reflect evolving Covid-19 guidelines. The 2021 festival will utilize virtual, in-person, indoor, and outdoor events. We ask that all participants at live events practice social distancing and wear a mask. Please visit the links below to view the offerings for the 2021 Arts & The Park festival.

Artists' Workshop Gallery

Hosted by: Artists' Workshop Gallery
Event Type: Gallery
When:
May 1, 2021, May 2, 2021, May 6, 2021, May 7, 2021, May 8, 2021, May 9, 2021, April 30, 2021 Starting at: 10:00 AM, 12:00 PM, 10:00 AM, 10:00 AM, 10:00 AM, 12:00 PM, 10:00 AM til: 5:00 PM, 5:00 PM, 5:00 PM, 5:00 PM, 5:00 PM, 5:00 PM, 5:00 PM, Doors Open:
Location:
610 A Central Ave

Hot Springs, AR 71901
Description:

- Featured Artists for May at Artists' Workshop Gallery are Joanne Kunath and Teresa Widdifield, two exciting artists who are long-time members of the gallery.
Joanne Kunath, a Hot Springs Village resident, moved to Arkansas from California in 2005. Joanne worked in pastels for many years, winning awards and teaching basic pastel techniques. For the past three years she has been creating paintings in acrylic, using air and pour techniques, and in alcohol ink. Joanne is inspired by the natural beauty of Arkansas and is motivated to recreate that beauty in her paintings. A lover of vivid color and abstract designs, her compositions are full of passion, energy and color.
They are conversation pieces, inviting the viewer to explore the depths within. As a May Featured Artist, Joanne will be showing a wide variety of her acrylic and
alcohol ink paintings. Teresa Widdifield began her artistic journey as a stained-glass artist over 30 years ago. She became drawn to creating fine art, where she "found her voice." She specializes in figurative paintings of women and portraits of pets. Teresa's paintings of women display femininity in ethereal, alluring poses. Her series titled "Women in Art" depicts women playing orchestral instruments rendered in luminous light and color. Her pet portraits show the animals close-up, capturing their spirit through detailed emphasis on the eyes. She works from photos but loves meeting the pets. She also paints portraits of pets that have passed on.
A resident of Hot Springs Village, Teresa often paints in Sedona, Arizona, where she has a second home. Miniature Art Featured Artists for May are Jim Reimer and Tom Seaman.
Artists' Workshop Gallery, 610A Central Avenue, Hot Springs, (501) 623-6401. The Gallery's temporary COVID hours are: Thursday-Saturday, 10:00 a.m.-5:00 p.m. and Sunday, 12:00-5:00 p.m. They will be open for Gallery Walk on May 7 from 5:00-9:00 p.m.
Audience: General Public
Audience Ages: All Ages
Student Grades:
Youth Ages:
Ticketed Event? No
Ticket Price or Fee:
Get tickets at:
Tickets are availible on the web at:
Tickets go on sale:
Contact: Rita Turner Phone: 903-814-3774 Email: rturner958@aol.com