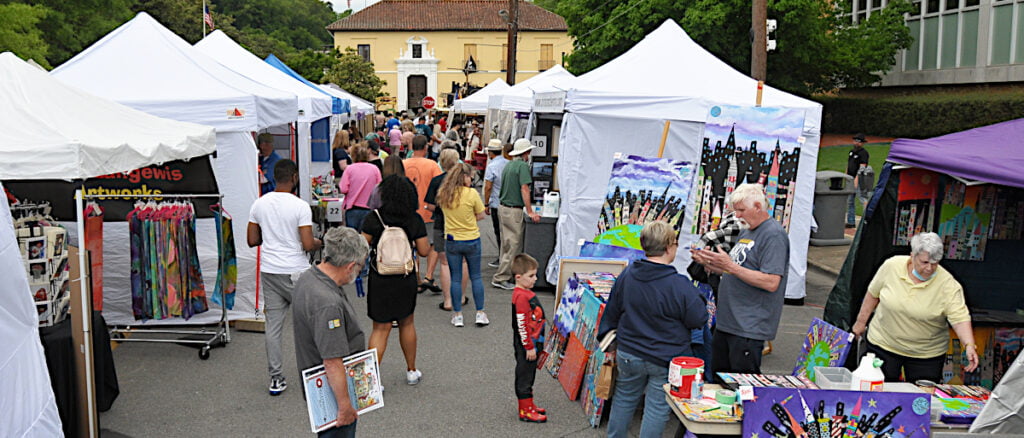 The Arts & The Park 2022 Festival was held from April 28 – May 8. HSACA is continually updating the calendar of events to reflect evolving Covid-19 guidelines. The 2022 festival utilized virtual, in-person, indoor, and outdoor events. We ask that all participants at live events practice social distancing and wear a mask. Please visit the links below to view the offerings for 2022 Arts & The Park festival.
Please check back often, events are being added daily

Art Moves: Creative Roots Opening Ceremony

Hosted by: HSACA
Event Type: Reception
When:
04/29/2022 Starting at: 4:00 PM til: 5:00 PM, Doors Open:
Location:
Hot Springs Creek Greenway Trail Hollywood Ave Entrance

Hot Springs, AR 71901
Description:

What a perfect way to start 10 days of arts events!  The first event of this year's Arts & The Park will be the opening of the 2022 Art Moves outdoor arts exhibition. Art Moves features 15 images reproduced on 30x40 panels, inspired by the theme for the exhibition, "Creative Roots" which celebrates the varied cultural backgrounds from which Arkansans come. Visitors can meet the artists, enjoy "Old Time" music by Hot Springs' musician Ken Tillery and then walk along the Hot Springs Creek Greenway Trail between Hollywood Avene and Bleding Street to experience the exhibition.  Attached to each of the pieces is a scannable QR code that links to exhibition details, the artists statement, and artists' biographical information.
Audience: General Public
Audience Ages: All Ages
Student Grades:
Youth Ages:
Ticketed Event? No
Ticket Price or Fee:
Get tickets at:
Tickets are availible on the web at:
Tickets go on sale:
Contact: Liz Phone: 773-208-9545 Email: liz@hotspringsarts.org