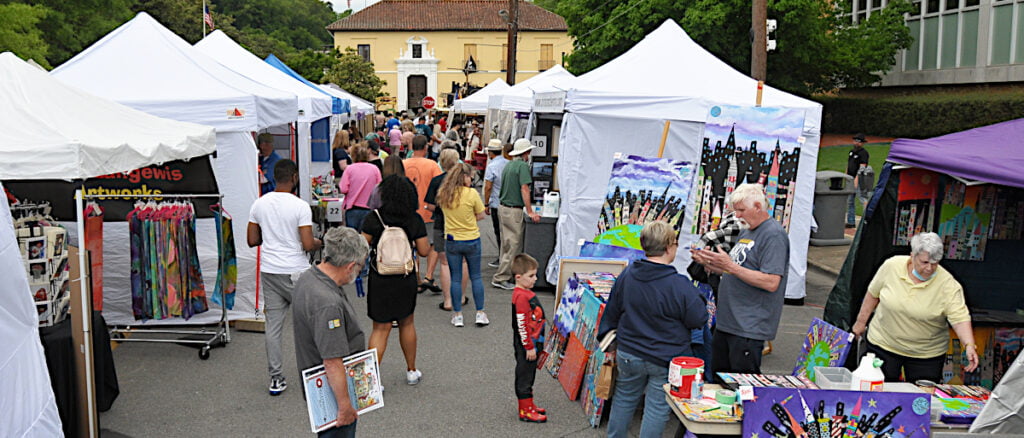 The Arts & The Park 2022 Festival was held from April 28 – May 8. HSACA is continually updating the calendar of events to reflect evolving Covid-19 guidelines. The 2022 festival utilized virtual, in-person, indoor, and outdoor events. We ask that all participants at live events practice social distancing and wear a mask. Please visit the links below to view the offerings for 2022 Arts & The Park festival.
Please check back often, events are being added daily

Inspirations In Wearable Art

Hosted by: Holly Siemert
Event Type: Event
When:
05/05/2022 Starting at: 1:00 PM til: 5:00 PM, Doors Open:
Location:
Garland County Library
1427 Malvern Ave
Hot Springs, AR 71901
Description:

If you are looking to break into the world of wearable art or working with fiber and fabric, this event is for you! Holly Siemert, host of a weekly gathering at the Garland County Library called All Things Fiber, will showcase a wide variety of art and seeks to form a unified community of fiber art lovers of all skill levels. 
This unique wearable art display will have a variety of manipulated fabrics and yarns including dyed fibers, felting, chenille yardage, weaving and more fiber techniques. This exhibit will showcase these wearables from hats to shoes and everything in between! The beginner and intermediate sewing enthusiast will enjoy this versatile exhibit and be inspired for making your own unique wearable art.
Audience: General Public, Artists
Audience Ages: All Ages
Student Grades:
Youth Ages:
Ticketed Event? No
Ticket Price or Fee:
Get tickets at:
Tickets are availible on the web at:
Tickets go on sale:
Contact: Liz Phone: 773-208-9545 Email: liz@hotspringsarts.org