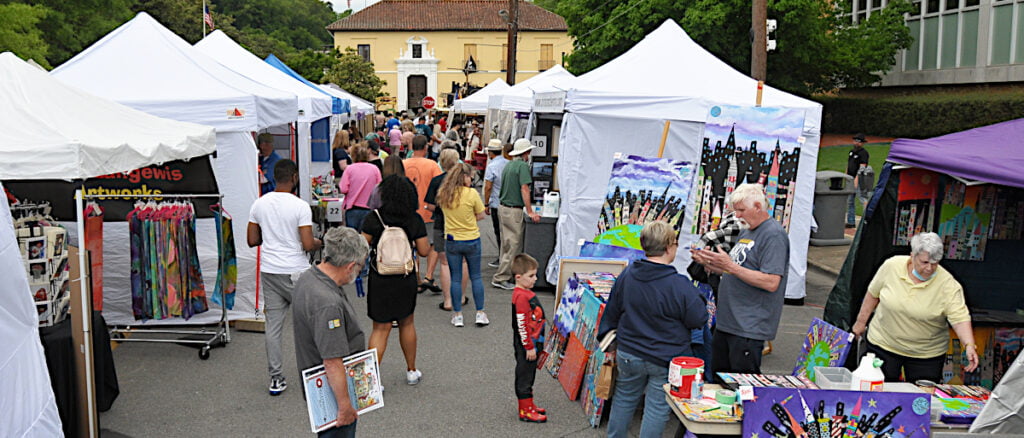 The Arts & The Park 2022 Festival was held from April 28 – May 8. HSACA is continually updating the calendar of events to reflect evolving Covid-19 guidelines. The 2022 festival utilized virtual, in-person, indoor, and outdoor events. We ask that all participants at live events practice social distancing and wear a mask. Please visit the links below to view the offerings for 2022 Arts & The Park festival.
Please check back often, events are being added daily

Zinse Agginie

Hosted by: HSACA
Event Type: Performance
When:
04/30/2022 Starting at: 12:00 PM til: 1:00 PM, Doors Open:
Location:
Hill Wheatley Plaza
605 Central Ave
Hot Springs, AR 71901
Description:

Zinse offers rhythm making with hand drums and storytelling as separate art forms for his residencies. In either case, expect positive dynamics among your students as they realize their own personal creative abilities. With the hand drums Zinse concentrates on teaching his drum ballet rhythms. The drum ballet has grown by leaps and bounds since the first public presentation at the opening of the Clinton Presidential Library. Participants have presented to a meeting of several state governors and continue to present at many dignitary functions. The Drum ballet is included in 'Class Acts,' the 2006 national film documentary as one of the ten most effective arts programs in America's schools. The Drum ballet was also the strongest catalyst the brought the 'Coming Up Taller Award' to Arkansas for the first time and only time so far. Schools in many states are regularly request workshops and residencies. In the typical residency, students are exposed to challenging rhythms that are easy to learn because of simplified teaching methods. The exercise helps them to focus, concentrate and improve general coordination. In some schools where resources are available, Zinse works with music teachers and students to add other musical instruments, example Orff or xylophones to the drum and other percussion instruments. Stories open the door to reading and writing, usage and comprehension when students re-write the stories in their own words. Zinse's approach in the educational setting is designed to limit stress by encouraging each student to appreciate his/her own pace, but to always make the best effort to draw out their personal creative potential and other abilities. The goal of each residency is to support relevant areas of the school curricula previously discussed and planned with teachers or school coordinator. Zinse works with both large or small groups of students and enjoys teacher enrichment or professional development workshops,
2008 Governor's Award winner (AIE) Zinse, was born and partly educated in Ghana, W. Africa. He later moved to England where he studied Psychiatric Nursing and remained in that profession for many years. He is also a diploma graduate of the London School of Printing where he majored in Graphic Arts reproduction Technology. Zinse later moved to Arkansas where he has worked over the past decade as AIE artist. Zinse is also on the AIE roster of Utah and works there regularly as well as other states like OK, PA, VA WVA and TX. He has written and produced plays at high schools and colleges and is also a member of The Gathering, the AR African American Living history program. Zinse uses hand drums for his storytelling and also as a percussive symphony. Both the storytelling and rhythms can support areas of the curriculum –social studies, history, geography and even basic maths.
Audience: General Public
Audience Ages: All Ages
Student Grades:
Youth Ages:
Ticketed Event? No
Ticket Price or Fee:
Get tickets at:
Tickets are availible on the web at:
Tickets go on sale:
Contact: Liz Phone: 773-208-9545 Email: liz@hotspringsarts.org