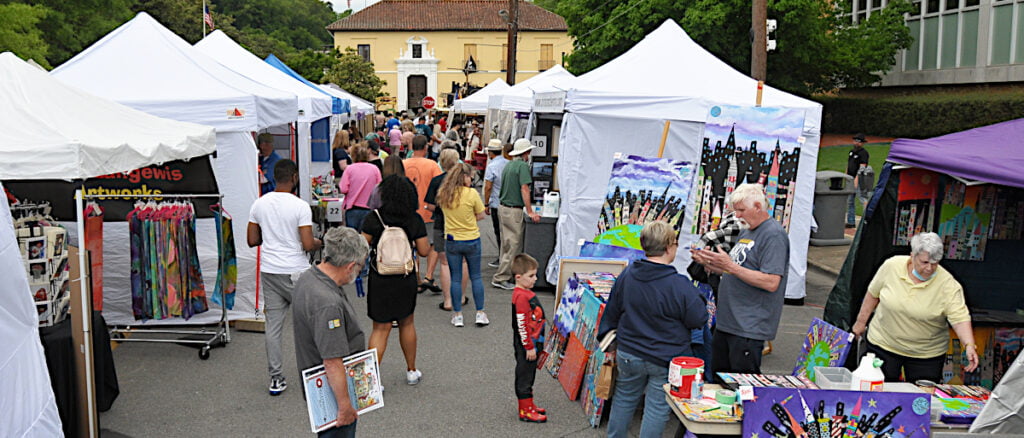 The Arts & The Park 2022 Festival was held from April 28 – May 8. HSACA is continually updating the calendar of events to reflect evolving Covid-19 guidelines. The 2022 festival utilized virtual, in-person, indoor, and outdoor events. We ask that all participants at live events practice social distancing and wear a mask. Please visit the links below to view the offerings for 2022 Arts & The Park festival.
Please check back often, events are being added daily

Rough and Ready Stringband

Hosted by: HSACAA
Event Type: Performance
When:
05/01/2022 Starting at: 12:00 PM til: 1:00 PM, Doors Open:
Location:
Hill Wheatley Plaza
605 Central Ave
Hot Springs, AR 71901
Description:

Rough & Ready Stringbnad hails from Southeast Arkansas and has been playing together for over 10 years. They will be featuring "Traditional Old Time Music," but will throw in some Bluegrass, gospel, and country to show the difference in styles...plus a little storytelling about the music. 
The band members are: 
Ralph Hunter from Monticello, playing fiddle and mandolin. He has played for 45 years, learning from Thadis Godwin (1918-1998). Thadis learned from his grandfather, Wiley Grubbs (1866-1944). Ralph brings the "real deal" of Traditional Old Time Music to this performance. 
Tommy Amason, from Fordyce, plays the doghouse base (the big standup bass) and has been playing since 1983. He is recognized as the very best doghouse bass player in Dallas county, and may be the only doghouse player in Dallas County. So be rady for that driving, to-tapping, get up and dance bss beat. 
Julia Barnes (Ralph's daughter) has played fiddle since she was 8 years old and attended the University o Louisiana- Monroe, on a music scholarship. 
Mike Regan started playing guitar in 1972 and became interested in Old-Time music shortly thereafter. 
You do not want to miss the Rough & Ready Stringband for a great example of Arkansas Heritage Music. 
Audience: General Public
Audience Ages: All Ages
Student Grades:
Youth Ages:
Ticketed Event? No
Ticket Price or Fee:
Get tickets at:
Tickets are availible on the web at:
Tickets go on sale:
Contact: Liz Phone: 773-208-9545 Email: liz@hotspringsarts.org