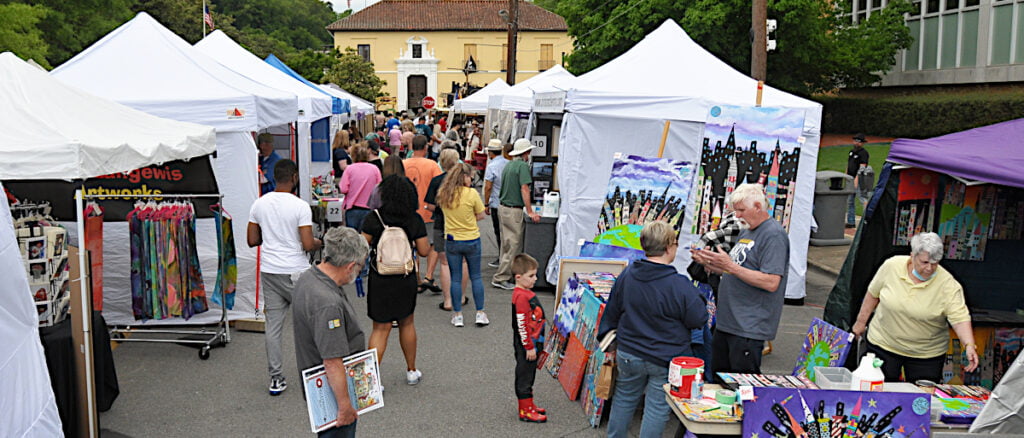 The festival will be held from Friday, April 28th through Sunday, May 7th.

Interstate 30 Bluegrass Band

Hosted by: HSACA
Event Type: Performance
When:
04/29/2023 Starting at: 3:00 PM til: , Doors Open:
Location:
Art Springs Stage Hill Wheatley Plaza
605 Central Ave
Hot Springs, AR 71901
Description:

nterstate Thirty is a bluegrass band, originally started in 2011, based out of central Arkansas.
Peyton Murphy of Glen Rose, AR has been with the band since 2011. He plays the mandolin and sings. He is originally from Imboden, AR but left town on the advice of his lawyer. His favorite bluegrass artists include ABBA, the Platters, and the Country Gentlemen. He is seeking employment as a trash man so he'll only have to work one day per week.
Robert Stane of Bigelow, AR joined the band in 2015. He plays the banjo and sings. He has been playing bluegrass since he was 14 years old. His favorite bands include Paul Revere and the Raiders, the Spice Girls, and Doyle Lawson and Quicksilver. He works as a taste-tester for Taco Bell and spends his spare time making fishing lures from reflectors he has picked up on the shoulder of the highway.
Darrell Drennan joined the band in 2015. He plays guitar, sings, and serves as our primary frontman. He hails from Paron, AR and has been playing bluegrass since before El Caminos and crop tops were cool. His favorite artists include Yanni, the Bee Gees, and Karl Shifflett and Big Country Show. He works as a carny and spends his spare time with his five parrots.
Tim Flory joined the band in 2017 playing the upright bass. He hails from Morrilton, AR and has been around the Arkansas bluegrass scene for many years. His favorite musical artists include the Monkees, Twisted Sister, and Flatt & Scruggs. Though gainfully employed, his true passion lies in carving soap figurines. 
Steve Harper of Heflin, LA has been joining Interstate Thirty on the guitar as his schedule allows since 2016. He has been playing bluegrass for many years and is a wealth of knowledge of long forgotten bluegrass songs. He enjoys hunting armadillo with his Cajun dog Phydeaux. He claims to have a real job, but we're pretty sure he just travels around the country picking and sleeping in his car.
Audience: General Public
Audience Ages: All Ages
Student Grades:
Youth Ages:
Ticketed Event? No
Ticket Price or Fee:
Get tickets at:
Tickets are availible on the web at:
Tickets go on sale:
Contact: Liz Phone: 773-208-9545 Email: liz@hotspringsarts.org