"Freedom" a Mural Honoring Harriet Tubman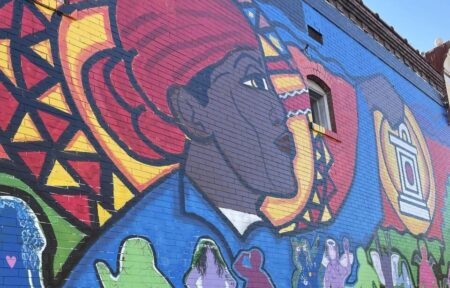 The Hot Springs Area Cultural Alliance celebrated unveiling of the newest installation of public art in downtown Hot Springs in November. Freedom, a mural by Little Rock artist Perrion Hurd, features Harriet Tubman lighting the way to freedom. The ceremony was held at the Central Theater and featured guest speakers Humanities scholar Dr. Carla Carter of Philander Smith College, Liz Robbins of the Garland County Historical Society, Pastor Don Crossley, artist Perrion Hurd, and a special performance of "Stand Up," a multidisciplinary presentation from students of Philander Smith College. Artwork by Hot Springs World Class High School students inspired by Harriet Tubman was also be on display.
The concept for the mural was proposed to HSACA, who then commissioned Hurd for the mural honoring the heroic life and impact of Harriet Tubman. The mural project received a great deal of community support including R.E.G.A.R.D., Hot Springs NAACP, and is significantly funded through private donations with the remainder of the funding from a grant from the Arkansas Humanities Council and the National Endowment for the Humanities.
For information about Hot Springs public art see the Public Art section of this website.