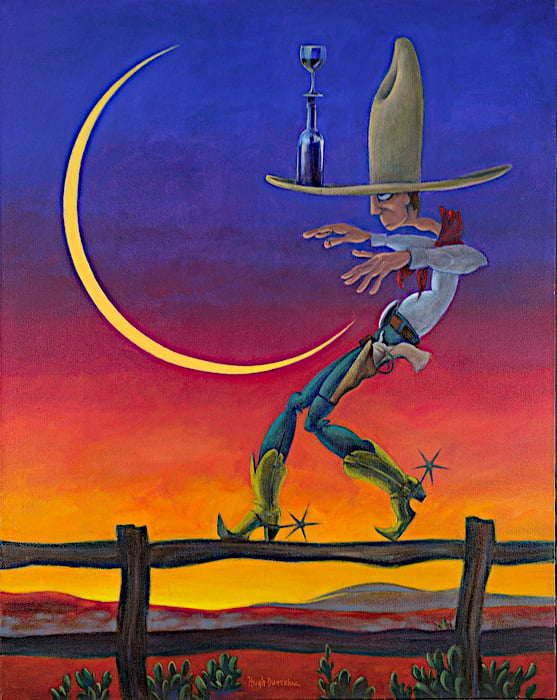 Hugh Dunnahoe
hugh.dunnahoe@dunnahoe.com
——
Walking The Line
Oil 30″ x 24″
——
Them Cowboys
How 'bout them cowboys
Ain't they hoots?
Goin' around all day
Wearing they boots
Twirling they pistols
Shootin' them moons
Singing they yodel-ays
And Clementine tunes
Them lanky legged cowboys
Bein' all merry
Gettin' they cow pleasures
Out on the prairie
How to be a cowboy
You don't need a ticket
Just look for a meadow muffin
Run up and kick it
——
Hugh Dunnahoe began painting during his professional career in illustration and graphic design, a discipline that has given him an understanding that all visual art is, at its core, communicating with images. The artist creates, but the viewer makes it complete. He currently works and teaches at his Arkansas studio near Hot Springs National Park. Dunnahoe has taught Graphic Design and Illustration at Henderson State University and Ouachita Baptist University, Arkansas, and was 2009 Artist-In Residence at Hot Springs National Park.