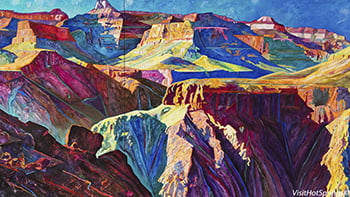 Hot Springs is home to a growing collection of notable public art. From murals celebrating Hot Springs' rich history, attractions, and culture, to its sculpture garden, permanent and temporary exhibits at the Hot Springs' Convention Center, and more, the spa city serves as a stunning backdrop for creative expression.
Hot Springs Convention Center and Bank OZK Arena Collection and Exhibitions
The Hot Springs Convention Center and Bank OZK Arena is home to an impressive display of paintings and sculpture in its permanent collection for visitors to enjoy. Already acclaimed as one of the finest and most comprehensive art collections in any public facility in the region, the collection is also showcased on a new Internet web page that is open to anyone who is interested. The art can be seen at 
https://www.artworkarchive.com/profile/visithotsprings
.
.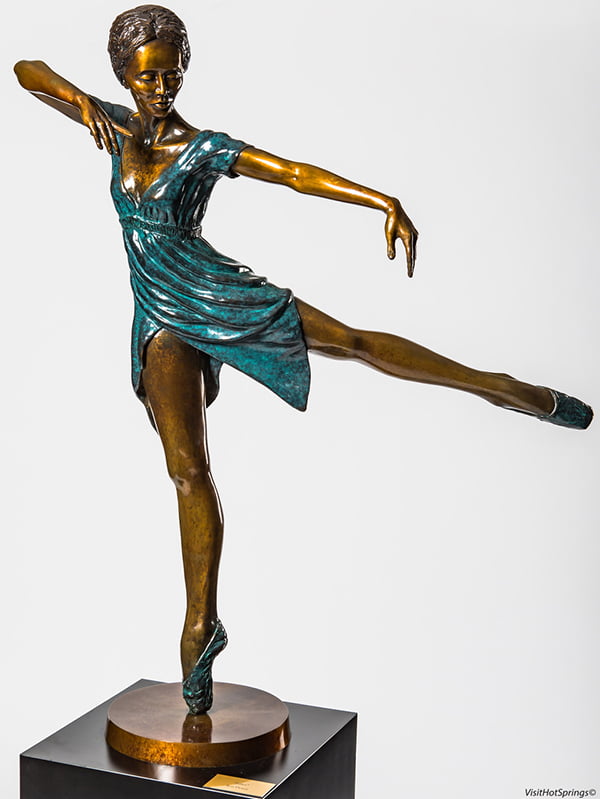 Hot Springs has a wide array of public sculptures ranging from traditional to experimental styles and mediums.
Additional sculpture in the city not yet listed on the above link:
"Synchronous" by Randy M. Olson, acquired in 2010, located at front of Exchange Street Parking Plaza
"Catching the Wind" by Gregory Johnson, acquired in 2010, located at the front of fountain, Exchange Street Parking Plaza
"Peace" by Longhua Xu, acquired in 2002, located at back of fountain, Exchange Street Parking Plaza
"Equator" by Jeanfo, acquired in 1984, located on Hot Springs Creek Greenway Trail at the Sponsor's Plaza between Grand Ave and Maurice St
"Indian and Maiden" by John Mark and Nikki Baker, acquired in 2017, located on Hot Springs Creek Greenway Trail near Runyon Street
"The Bird Feeder" by John Mark and Nikki Baker, donated in 2017, located on Hot Springs Creek Greenway Trail near Runyon by Butterfly Garden
"Lovers/Fighters" by John Mark and Nikki Baker, donated in 2016, located on Hot Springs Creek Greenway Trail near Belding St
"Running in Circles" by John Mark and Nikki Baker, acquired in 2016, located on Hot Springs Creek Greenway Trail near Hollywood Ave
Two unnamed sculptures were donated by Carolyn Taylor in 2019 and they are located on the Friendship Trail near the low water bridge
A piece funded by the Garland County Master Gardeners was donated to the city in 2019 and is located on HSCGT near the Railroad Trestle
"Yellow Bird" is by Darren Nolan. "Early Sunrise" and "Man and Nature" are by Cunningham located on Convention Blvd., all acquired in 2000
Murals
Hot Springs has added stunning new murals to its historic downtown over the past few years. Current highlights include: