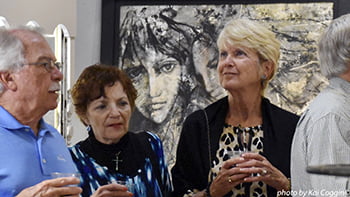 Be sure to visit the local fine art galleries in Downtown Hot Springs Art Galleries.
Participating galleries include:
724 Central Ave.
501-624-0550
Exhibiting art by local, regional, and national artists. Two floors, over 4,000 sq. ft. of fine art. Gallery II: Thomas Kinkade Showcase Gallery. Hours: Mon. – Sat., 10-5.
610A Central Ave.
501-623-6401
A fine art cooperative exhibiting original works of 30 local artists. Featuring traditional paintings to contemporary abstracts, pottery, jewelry, fused glass, miniature paintings, scarves, woodturning, sculpture, and photography. Established 1990. Hours: Mon. – Sat., 10-5; Sun. 12-5.
340A Central Avenue
501-318-4278
Featuring internationally recognized artist Daniel Mark Cassity, named an "Artist to Watch" by Southwest Art Magazine, along with showcasing 35 outstanding artists, from impressionists to contemporary acrylics and oils, pottery, blown glass chandeliers, and sculptures. Hours: Mon. – Sat., 10-5.
827 A Central Ave.
501-321-2335
Justus Fine Art Gallery features the original work of respected artists including: Kari Albright, Michael Ashley, Dustyn Bork, Beverly Buys, Taimur Cleary, Donnie Copeland, Kristin DeGeorge, Virmarie DePoyster, Mike Elsass, Robert Fogel, Jennifer Libby-Fay, Randall M. Good, Matthew Hasty, Jeri Hillis, Robyn Horn, Don House, Dolores Justus, Jill Kyong, John P. Lasater IV, Gerri Much, Charles Peer, Sammy Peters, Laura Raborn, Jason Sacran, Tony Saladino, Sandra Sell, Gary Simmons, Gene Sparling, Rebecca Thompson, Dan Thornhill, Emily Wood, and others. Paintings, sculpture, ceramics, photography, jewelry, and more are offered. New exhibits are hung monthly. Hours: Wed. – Sat., 10-5 and by appointment.
804 Central Ave.
501-762-0840
Legacy Fine Art Gallery is a completely renovated gallery featuring incredible works by local, national, and international artists such as Carole Katchen, Byron Taylor, Ed Pennebaker, Vangelis, Desjardins, and many more. Open during Gallery Walk and by appointment.
800-B Central Ave.
501-620-3063
Featuring Palmer's colored pencil drawings and oil paintings. Limited edition archival prints from her Arkansas Champion Trees series and notecard series are also available. Signed copies of her recent book, The Champion Trees of Arkansas: An Artist's Journey can be ordered on her website or purchased at Gallery Central. Studio is open for visits when the artist is in the studio or by appointment.
907 Central Ave.
501-623-6228
Come enjoy a cup of tea with Dawn and Loi Nguyen at Loi's Fine Art.  Since the mid-1980's their studio has been located at 907 Central Avenue, downtown across from the Landmark Building. They feature contemporary and modern art paintings and custom framework.  Loi studied in Vietnam and has commissioned thousands of art pieces throughout his lifetime.  He has lived in Hot Springs since 1975 and is able to sculpt, paint and draw anything your heart may desire.  Currently open by appointment only.
307 Whittington Ave.
501-607-0214
Facebook: Whittington Gallery / Studios
Whittington Gallery & Studios is a laid back gallery exhibiting the work of 38 local artists in a 5,000 sq. ft. gallery space. Featuring oil and acrylic paintings, pastels, watercolor, pottery, jewelry, wooden bowls, photography, and more. Hours: Mon. – Fri.,9-3; Sat. from 10-4.
430 Valley Street
501-701-8036
Facebook: Blue Waters Fine Art
Proudly representing the thriving arts community of Hot Springs, a plethora of talented and thriving artists, merchants and small business owners.  Featuring the art of Laura Blue waters and other local featured artists.
In addition to galleries, downtown businesses stay open late and some even host pop-up exhibitions featuring guest artists.  Each month is new and exciting! Visit the Hot Springs Area Cultural Alliance Facebook page for monthly events.