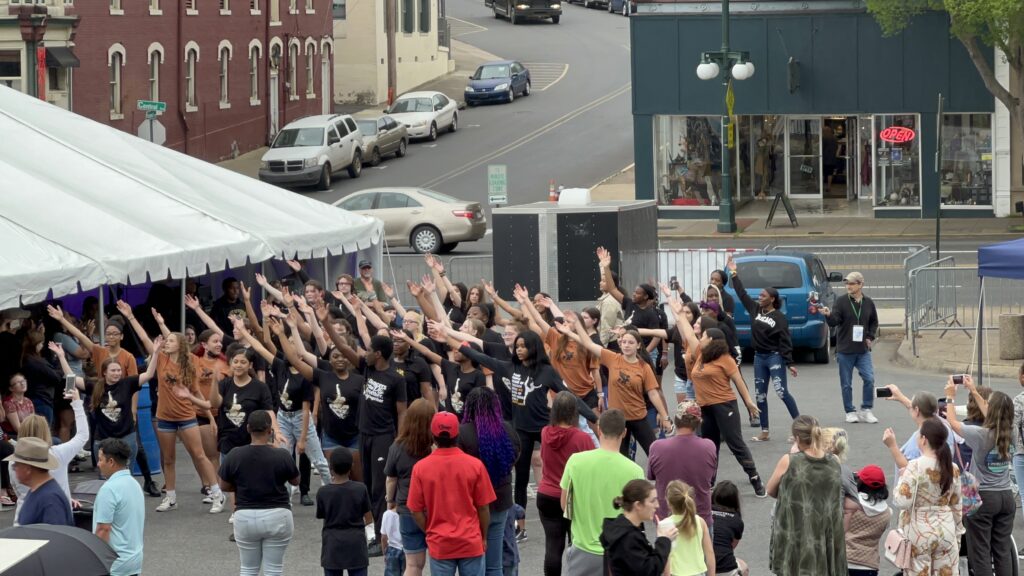 2023 Arts & The Park
It was a great festival!!!! The 2023 festival was held from April 28th through May 7th with indoor, outdoor, in-person, and virtual offerings. The theme for the festival, "Art & Soul", celebrated the utility of art for the artist and highlight the different ways art is used as a tool for the artist. Whether a method of communication or healing, HSACA presented the community with a window into what art does beyond just being pretty to look at.
The printed program for Arts & The Park was published in the April issue of The Springs Magazine. Click here if you would like to see it.
Arts & The Park is hosted each year by the Hot Springs Area Cultural Alliance as part of the organization's mission to celebrate the arts and culture of the Hot Springs area. Arts & The Park 2023 included live performances, workshops, children's events, and art exhibitions. 
Some of the highlights of the 2023 festival included:
Art Moves – Friday, April 28, 2023 – The annual Art Moves exhibit, made up of 20 original works of art reproduced onto 30″ x 40″ metal sheets, is installed along the Hot Springs Creek Greenway Trail and will remain there until the springs of 2024. This outdoor exhibition encourages everyone to go outdoors to enjoy nature year-round. For information about the 2022 Art Moves, visit the page on this website.  
Art Springs –  Saturday and Sunday, April 29-30, 2023 – Art Springs, the free 2-day outdoor festival, took place the first weekend of Arts & The Park at Hill Wheatley Plaza in the heart of historic Hot Springs. Art Springs is an annual juried festival filled with talented artists, artisans, and fine crafts. Food trucks, beverages for purchase, a children's area with a book giveaway, the Renaissance Fair, and storytelling make it an annual favorite for the entire family. Also included in the Art Springs festivities:
Chalk Walk: A Sidewalk Chalk Event
Children's Book Giveaway presented in partnership with the Hot Springs Community Foundation.
Glover Award for Songwriting Excellence – The third annual contest, paid homage to local music legend singer/songwriter, Henry Glover and took place on the Art Springs Stage on Saturday afternoon, April 29.
Studio Tours –  Saturday and Sunday, May 6-7, 2023 – Artists opened their studios for on-site tours.
Gallery Walk – Friday, May 5, 2023 – The first Friday of every month from 5-9 p.m. Hot Springs area galleries and participating studio spaces opened their doors for Gallery Walk.
Virtual Cooking – Tuesday, May 2 – Hot Springs very own interactive cooking show! A wildly popular virtual event where participants cooked along with a local chef, virtually, from the comfort of their own kitchen.
Ibla – Saturday, May 6 – The IBLA Foundation in New York City organizes annual music competitions for pianists, singers, instrumentalists and composers which take place in Ragusa Ibla, Italy. Winners have been presented in prestigious venues such as Weill Hall at Carnegie Hall, Lincoln Center Alice Tully Hall, KIOI Hall and Tokyo Opera City Hal in Japan, Tchaikovsky Bolshoi Hall in Moscow, and other prestigious venues globally. The international performers visited Hot Springs where they performed alongside Hot Springs Dance Troupe at The Finale which was held at Pocket Theatre.
If looking for accommodations during Arts & The Park, please check with our festival hotel partners who will be happy to assist you.
Thank you to the 2022 Arts & The Park Sponsors: