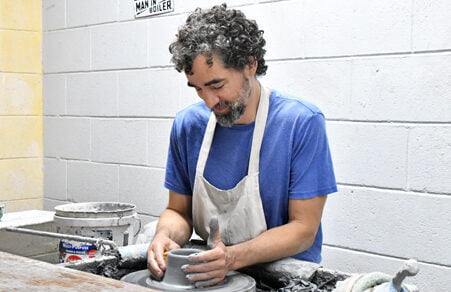 Arts & The Park is hosted by the Hot Springs Area Cultural Alliance as part of the organization's mission to celebrate the arts and culture of the Hot Springs area. Arts & The Park 2022 will include live performances, workshops, children's events, and art exhibitions.
Some of the highlights of the 2022 festival will include:
Art Moves – The annual Art Moves exhibit is made up of original artwork reproduced onto 30″ x 40″ metal sheets which are installed along the trail that runs beside Hot Springs Creek. This outdoor exhibition encourages everyone to go outdoors to enjoy nature and art during the festival and throughout the spring and summer. The Art Moves exhibit is presented in partnership with the City of Hot Springs Parks & Trails.
Art Springs – Art Springs is the free 2-day outdoor festival held during the first weekend of Arts & The Park. The events will take place on April 30 and May 1 at Hill Wheatley Plaza in the heart of historic Hot Springs. Art Springs is a juried festival bursting with talented fine artists, artisans, and fine crafts. Food trucks, beverages for purchase and a children's area with a book giveaway, the Renaissance Fair, and storytelling make it an annual favorite for the entire family.
Chalk Walk: A Sidewalk Chalk Event – On the sidewalks surrounding Art Springs, teams of young artists will create chalk masterpieces on the morning of May 1.
Children's Book Giveaway – Hundreds of books will be available for area children, free of charge, to foster a love of the art of literature. The Children's Book Giveaway was presented in partnership with the Hot Springs Community Foundation. Books will be distributed while supplies last at Art Springs on April 30 and May 1.
Songwriting Competition – The second annual contest will pay homage to local music legend, and festival honoree, singer/songwriter Henry Glover.
Disfarmer Photography Exhibit – A photography exhibit featuring reproductions of Arkansas photographer Mike Disfarmer will be hosted at the Hot Springs Convention Center with a virtual exhibition of photography inspired by Disfarmer's iconic style.
Studio Tours – Artists will open their studios for on-site tours on May 7-8. Studio Tours are presented in partnership with Riser Ford. Wildly popular among festival goers, Studio Tours is a free self-guided tour that allows visitors to catch a rare glimpse into the inner workings of the artistic process.
Gallery Walk – The first Friday of every month from 5-9 p.m. Hot Springs area galleries and participating studio spaces open their doors for Gallery Walk. New exhibits, art events, and opportunities to meet featured artists, continue to make Gallery Walk a must for visitors and residents alike. A special Arts & The Park Gallery Walk offers visitors an opportunity to visit all the galleries on May 7.