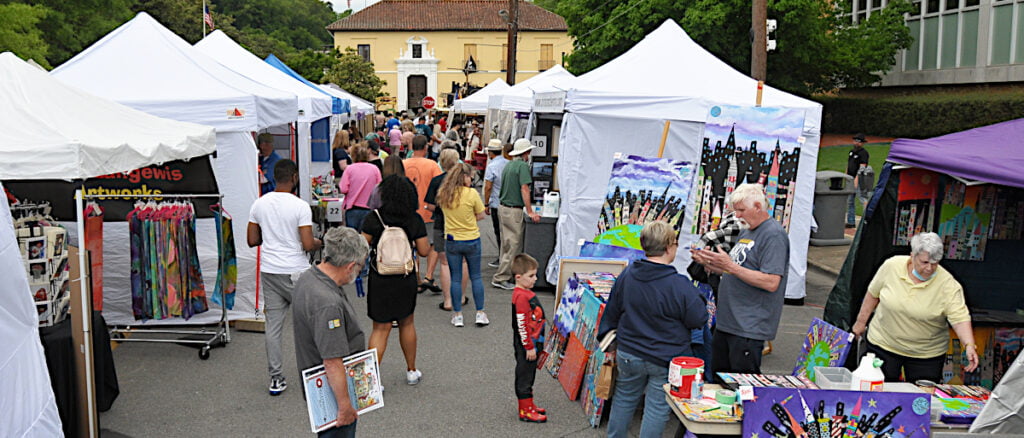 The Arts & The Park 2022 Festival was held from April 28 – May 8. HSACA is continually updating the calendar of events to reflect evolving Covid-19 guidelines. The 2022 festival utilized virtual, in-person, indoor, and outdoor events. We ask that all participants at live events practice social distancing and wear a mask. Please visit the links below to view the offerings for 2022 Arts & The Park festival.
Please check back often, events are being added daily

Meemaw & The Squirrel Chasers

Hosted by: HSACA
Event Type: Performance
When:
04/30/2022 Starting at: 2:00 PM til: 3:30 PM, Doors Open:
Location:
Hill Wheatley Plaza
605 Central Ave
Hot Springs, AR 71901
Description:

Meemaw & The Squirrel Chasers are an old-time string band that hails from the Ozark hills where their style of mountain music was born and bred. This quartet of rising stars and veteran pickers from the Mountain View music scene are known for their energetic dance tunes, lively humor, harmonies, and repertoire of timeless Arkansas folksongs. 
The Squirrel Chasers feature Jackie and Crystal McCool (a.k.a. Meemaw) on guitar and bass fiddle, 17-year-old 10-time state fiddle champion Mary Parker, and 18-year-old National Old-Time Banjo Champion Lillyanne McCool. Mary and Lillyanne are both nominated for three awards at the 2022 Arkansas Country Music Awards, including "Young Artist of the Year," "Bluegrass Artist of the Year," and "Entertainer of the Year."
If you like foot-stomping, authentic, old-time "folk" music, you won't want to miss Meemaw & The Squirrel Chsers Saturday during Arts & Teh Park. YOu'll also want to bring your dancing shoes for a special beginner jig dancing class with the band. 
Keith Symanowitz is an award-winning jig dancer, percussionist, and musician from the Folk Music Capital of Mountain View, Arkansas. When he's not performing gospel, roots, and American folk music, Keith offers workshops to students of all ages and ability levels that empower students to forge a personal connection with music and dance. His programs combine lively southern mountain music and step-by-step instruction that allow audiences the opportunity to celebrate Arkansas's rich musical heritage and time-honored traditions in a fun and memorable way. 
Keith's workshops during Arts & The Park include "Folk Rhythms" How to Play Musical Spoons, Washboard, and More" and Learn to Jig Dance Ozark Style with live music by special Guests Meemaw & The Squirrel Chasers. 
Audience: General Public
Audience Ages: All Ages
Student Grades:
Youth Ages:
Ticketed Event? No
Ticket Price or Fee:
Get tickets at:
Tickets are availible on the web at:
Tickets go on sale:
Contact: Liz Phone: 773-208-9545 Email: liz@hotspringsarts.org